Iraqi officials are urging for the implementation of urgent measures that would allow for the return of displaced Iraqi families living in al-Hol camp in Syria's eastern al-Hasakeh province to their homes.
The camp, managed by Syrian Kurdish forces and overseen by international organisations, shelters more than 60,000 people, including 31,000 Iraqis, according to the Ministry of Displacement and Migration.
The autonomous administration of north and east Syria has been gradually evicting Syrians from the camp in order to address overcrowding.
On October 12th, the Syrian Democratic Forces (SDF) -- the autonomous administration's military arm -- reportedly returned some 73 Syrian families to their hometowns of al-Sousa, al-Shaafah and al-Baghouz in Deir Ezzor.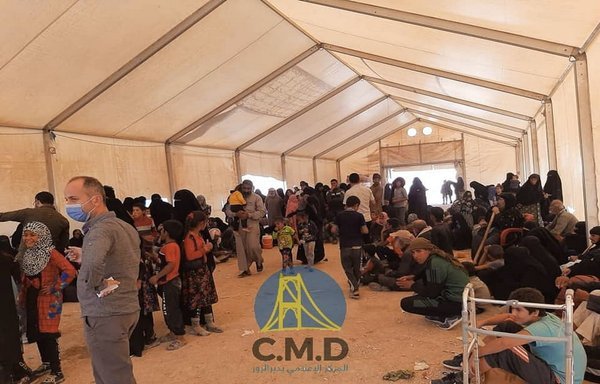 Their release followed mediations and personal guarantees from leaders and elders of Deir Ezzor tribes.
And on October 15th, the SDF freed more than 600 Syrian prisoners detained over links to the "Islamic State of Iraq and Syria" (ISIS) in al-Hol.
The 631 detainees had been held on terrorism charges and were the first batch released in an amnesty deal announced recently following calls from Arab tribes in eastern Syria.
'Extremely difficult conditions at al-Hol'
Other than Syrian citizens, foreign families, most of them Iraqis who have fled ISIS, also live in al-Hol camp.
There are also families of killed Iraqi ISIS militants at the camp. Kurdish forces had transferred them to al-Hol from al-Baghouz in eastern Syria after the region was liberated from ISIS.
The presence of these families became a source of tension between them and ISIS women who are perpetuating the ideology of the extremist group. It also caused the camp to become overcrowded and limited the number of refugees it could accept.
In light of the coronavirus (COVID-19) pandemic, a humanitarian disaster was feared in the congested camp, which lacks solid infrastructure.
Iraqi MP Qusay Abbas, deputy chairman of the human rights committee, told Diyaruna Iraqis and other residents of al-Hol are living in extremely difficult conditions and lack basic services.
A government plan to evacuate Iraqi al-Hol residents and resettle them in a camp in Zammar, west of Ninawa, was earlier met with objection, he said, out of fear of instability as a result of bringing ISIS families to that region.
Abbas urged the Iraqi government to find a way to humanely deal with the issue, such as creating special shelters for those displaced families. He said action must be taken swiftly, especially as most Iraqi residents of al-Hol are women and children.
There are some concerns about potential radicalisation among ISIS family members if they are not granted access to proper care and rehabilitation services, he said.
Refugees resort to smugglers to leave camp
Eager to leave, a number of displaced people pay smugglers to get them out of the camp.
A video posted on social media in September showed Syrian Kurdish fighters stopping a water tanker with smuggled Iraqi women and children inside who looked like they were about to suffocate.
Anbar mayor advisor on immigration affairs Mazen Abu Risha told Diyaruna al-Hol currently houses a large number of Iraqi families who hail from Anbar, Ninawa, Salaheddine and Kirkuk provinces.
Due to the harsh circumstances they endure at the camp, many would like to return to Iraq, he said, and would risk their lives in the process.
The main obstacle to their return is the fear that it would be done in haste without taking the time to check their security status, Abu Risha said, expressing his hope that any government efforts to improve the conditions of the displaced would yield positive results.
Ali Jahankir, an official at Iraq's Ministry of Displacement and Migration, told Diyaruna the ministry has not received any request from the government to initiate steps for the return of Iraqi families residing in al-Hol as of yet.
Despite the economic hardship Iraqis face in the camp, the ministry cannot reach them "due to the fact that al-Hol is on foreign soil", he said.