Syrian Democratic Forces (SDF) backed by the international coalition have stepped up pre-emptive operations targeting "Islamic State of Iraq and Syria" (ISIS) remnants and sleeper cells in eastern Syria, a local activist said.
Security forces arrested more than 50 militants within a nine-day period, and seized large quantities of weapons and ammunition found in their possession, al-Hasakeh activist Ammar Saleh told Diyaruna.
These militants had been involved in a number of crimes, he said, from the manufacture of improvised explosive devices (IEDs) to the transfer of weapons and the planning of terror attacks.
The Syrian Kurdish Anti-Terror Forces Command (HAT) carried out these operations, with the international coalition providing air and logistical support, Saleh said.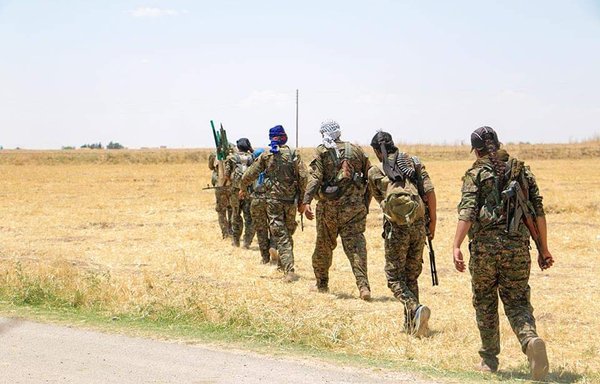 Four ISIS elements were arrested during the largest operation, in eastern rural al-Hasakeh province, he said, among them a former ISIS emir, who is an expert in the manufacture of explosives and IEDs.
Security forces also arrested two ISIS elements who had been tasked with transporting weapons and ammunition to the group's sleeper cells near the town of al-Inad in rural Deir Ezzor, he said.
They arrested two other ISIS elements near the Conoco gas field in eastern rural Deir Ezzor, he said, adding that these elements had been preparing to plant IEDs in the area.
Social media accounts associated with ISIS announced that the group's elements had carried out 13 attacks between October 9th and 14th, most of which were concentrated in Deir Ezzor province, Saleh said.
These involved the planting of IEDs and assassination of SDF elements and members of civilian councils affiliated with the Autonomous Administration, he said.