A US drone strike targeted Thursday (October 15th) a car in which three members of the Hurras al-Deen group were traveling in north-western Syria, killing everyone on board.
The strike, conducted by an unmanned aerial vehicle (UAV), dealt a heavy blow to the group, Idlib activist Haisam al-Idlibi told Diyaruna.
Hurras al-Deen is a relatively small but powerful armed group led by al-Qaeda loyalists. In June, it joined forces with four other hardline groups operating in the region to form the Fathbatu operations room.
Considered to be al-Qaeda's branch in Syria, Hurras al-Deen is a rival of Tahrir al-Sham, an extremist alliance dominated by former members of al-Qaeda linked al-Nusra Front (ANF) -- although the two groups co-operate at times.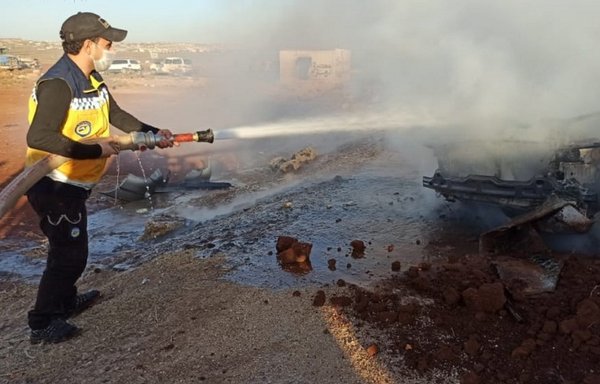 The strike took place in the town of Arab Saeed in western rural Idlib in an area that is far from population centres, al-Idlibi said.
Preliminary information confirmed the killing of a senior operative of the group and former Sharia judge, Abu Dhar al-Masri, and another operative known as Abu Yusuf al-Maghrebi, he said.
According to eyewitnesses, and contrary to the claims promoted by extremist media outlets, "there were no women or children in the car", he added.
Al-Idlibi said the killing of al-Masri deals a heavy blow to the group since he was one of its founders in 2018 after he started opposing the direction taken by Tahrir al-Sham.
Al-Masri was "a strict adherent to the ideas and ideals of al-Qaeda", al-Idlibi said, noting that most of the group's elements are Arab and foreign nationals who are unable to return to their home countries because they are on terrorist watch lists.
Al-Masri was in charge of a Sharia teaching institute where children were being groomed to be the next generation of terrorists loyal to al-Qaeda, he said.
Lately, Hurras al-Deen elements have been in a state of high alert due to the raging disputes between them and elements of other groups, which have led to clashes in which many on both sides were killed and wounded, he said.
In mid-September, another drone strike killed prominent Hurras al-Deen leader Sayyaf al-Tunsi.
Al-Tunsi was a former ANF leader who was sidelined over his alleged responsibility for the 2015 massacre of 20 Druze villagers in Idlib province.