A recent spike in suicide among Yazidi survivors of "Islamic State of Iraq and Syria" (ISIS) atrocities has Iraqis concerned about whether they are receiving the necessary care and training opportunities.
Experts speaking with Diyaruna proposed providing social and psychological support to members of the Yazidi community who survived the violent takeover of their cities in 2014 and the subsequent occupation.
Fadel al-Gharrawi, a member of the High Commission for Human Rights, said in September that three displaced Yazidi women committed suicide in Dohuk and Mount Sinjar camps in the span of a month.
The three documented cases were individuals who were subjected to violence and slavery under ISIS, he said. Additionally, the death of many of their family members at the hands of ISIS and their prolonged stay in displacement camps had compounded their suffering.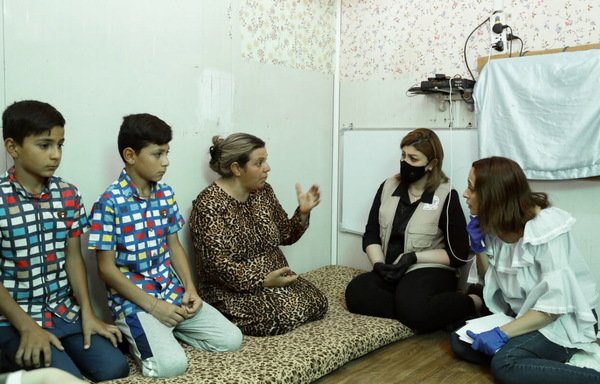 Hike in suicide cases
Hussam Abdullah, an official from the Yazidi Organisation for Documentation, told Diyaruna suicide among Yazidis is a "dangerous indicator".
The recent drastic increase in the number of Yazidi suicide cases is alarming, he said, noting that in the past two months alone, seven suicides have occurred among women of different ages.
Regardless of the level of service they offer, the camps are a far cry from a normal life, he said. Camp residents are marginalised and under financial duress due to unemployment, which does not help them overcome the trauma of having been raped or trafficked by ISIS, especially among young girls.
Abdullah said the need to develop a comprehensive plan to combat this problem is critical and the government and relevant agencies should follow through with it.
Displaced Yazidis' most significant needs are employment, improved living conditions and enhanced public services, he added.
He called for allocating more government grants to the Yazidis, noting that only a small number of them have benefited from such grants to date.
Out of thousands of tortured and abused Yazidi women, only 375 have received grants of two million Iraqi dinars ($1,680) each, he said.
Victims need constant care that is not limited to financial support but extends to mental health care as well, he added.
'Pressing need' to address trauma
Khairi Bouzani, general director for Yazidi affairs at the Kurdish regional government, told Diyaruna there is a pressing need to address the psychological trauma experienced by the displaced Yazidi population.
Supporting the return of displaced families to their hometowns is a major factor in containing this crisis, he said.
However, he added, the return should be contingent upon having a safe environment to return to and financially supporting returnees until they find work.
More than 20,000 Yazidi families have returned to Sinjar over the past three years but many are still displaced. According to official statistics, some 300,000 Yazidis are still in camps, most of which are located in Iraq's Kurdish region.
Bouzani called for allocating monthly salaries, not just grants, to all surviving Yazidi women who were harmed by ISIS elements.
He said they also need rehabilitation programmes to help them overcome the effects of the psychological and physical harm they suffered. This, he said, would help prevent them from falling into a cycle of despair and hopelessness.
Layla al-Barazanchi, director of Jud, a Mosul-based humanitarian organisation for development and reconstruction, said she has worked with battered women and survivors of terrorism who were psychologically traumatised.
"We were committed to supporting them and giving them hope. The first step was to offer them training leading to employment in sewing and handicraft businesses," she told Diyaruna.
Work gave these women a sense of confidence and determination to turn their lives around and usher in a brighter future, she said.
Al-Barzanji stressed that providing professional training and employment opportunities must be an essential component of any governmental programme that aims to help marginalised groups, including the Yazidis.