New US sanctions imposed on senior figures in the Syrian regime's security apparatus in the southern province of Daraa are a dual strike against both the regime and its backer Russia, a Syrian journalist told Diyaruna.
The US Department of the Treasury on September 30th announced it was designating Milad Jadid, commander of the Russia-backed 5th Corps militia.
Also designated was Maj. Gen. Husam Muhammad Louka, head of the Syrian General Intelligence Directorate (GID), one of Syria's four intelligence agencies.
According to the Treasury, Louka is a longtime leader within the Syrian regime's security apparatus, and has served in his current position since July 2019.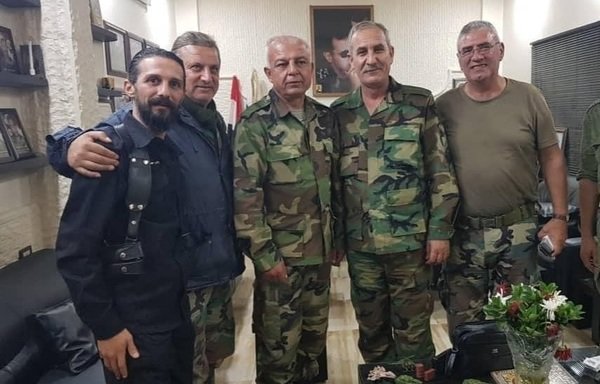 In 2010, he was appointed assistant head of the GID, and since the outbreak of the Syrian conflict, in March 2011, he has held several high-ranking positions in both the Syrian Political Security Directorate and the GID.
These included heading up the political security branches in Homs and Hama.
"While working in Homs, Louka reportedly committed a number of massacres and was responsible for the torture of detainees in his department," the Treasury said in a statement announcing the sanctions.
"In 2015, Louka was accused in press reporting of participating in the so-called 'Eid massacre' in the al-Waer neighbourhood, where a children's playground was bombed and 19 people, including 14 children, were killed," it said.
Sanctions target regime, Russia
The sanctions come as part of the Caesar Syrian Civilian Protection Act of 2019, which seeks to prevent the normalisation of Syrian president Bashar al-Assad without accountability for human rights abuses.
"The designation of Louka and Jadid is a dual strike, directed at both the Syrian regime and Russia," Syrian journalist Mohammed al-Abdullah told Diyaruna.
He pointed out that the 5th Corps, "which is Syrian and is supposed to be part of the Syrian army", is fully subordinate to and funded by Russia, and follows the orders of Russian army officers operating in southern Syria.
Jadid has had a hand in the state of chaos and lawlessness that has emerged in Daraa, and is responsible for the recruitment of Syrian youth into the ranks of the 5th Corps, al-Abdullah said.
The 5th Corps has turned into a militia that takes its orders from a non-Syrian command, he added, noting that militia units have been transferred to the northern province of Idlib to take part in the fighting there.
According to the Treasury statement, this has contributed "to impeding, blocking, or preventing a ceasefire in Syria".
Abdullah said both of the sanctioned officers have continued to oversee the arrests of a number of former opposition elements who had reconciled their status with the regime, which has contributed to rising tensions in the region.
"These sanctions represent direct support to the people of Daraa and its environs in light of the repression, arrests and assassinations they are subjected to at the hands of both the regime's forces and the 5th Corps," al-Abdullah said.