The Iraqi government's efforts to open up the country to foreign investment to support economic development have been thwarted at every step by Iran-backed militias operating in the country, Iraqi experts told Diyaruna.
The militias seek to maintain Iran's influence by keeping Iraq isolated, they said.
Last month, Prime Minister Mustafa Kadhemi announced the finalisation of a series of investment agreements between US and Iraqi companies in the oil, gas and electricity sectors, together worth more than $8 billion.
Iraqi government delegations also are courting countries in the region, including Saudi Arabia, which is set to invest in a Baghdad gas field and will reportedly lend $3 billion to cover Iraq's budget deficit.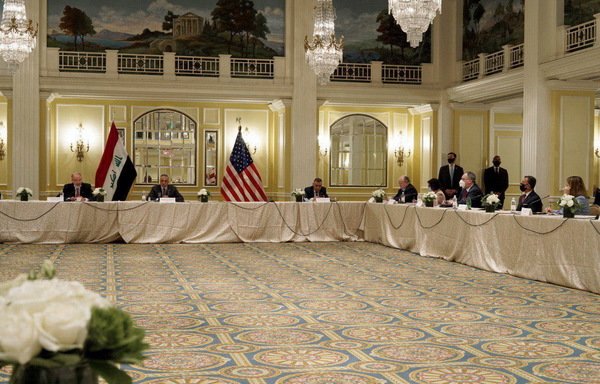 During a September 2nd visit to Iraq, French President Emmanuel Macron also focused on expanding economic ties with Iraq by boosting investment in its energy and infrastructure sectors.
The opportunities for developing Iraq's economy and stimulating investment are significant, economist Mazen al-Asheiker told Diyaruna.
But militias linked to Iran stand in the way of Iraq's development and are actively trying to disrupt progress, he said, as economic recovery and prosperity in Iraq could adversely affect their own interests.
"The militias do not want Iraq to open up to the world, but rather seek to isolate it and thwart progress in all aspects," al-Asheiker said.
'A hostile environment'
Al-Asheiker warned that reconstruction will be delayed if these "lawless groups" continue to harm Iraqi interests.
"They are working to create an environment that is hostile to investment through the absence of security and increased targeting of [foreign] companies and diplomatic and military interests," he cautioned.
"There are concerns that the economic and investment agreements recently signed between Iraq and a number of countries will not be implemented, in light of the heightened activities of these militias," he said.
Earlier this month, Finance Minister Ali Allawi said he feared state institutions would be paralysed by the dominance of Iran-backed militias.
In a September 1st interview on the PBS NewsHour, Allawi stressed the need for Iran to "review its plans and strategy in Iraq with regards to the support it provides to the armed militias and their political agents".
He described the security and economic challenges that Iraq is experiencing as "massive and severe" and warned that "if we do not take urgent reform measures, things may go too far".
In mid-July, Iraq launched the "White Paper Plan" for economic reform. This focuses on encouraging investment, supporting the private sector and maximising state revenues from non-oil sources.
Destroying Iraq's economy
Iran-backed militias constitute a "major obstacle to any plan or policy that leads to reforming the difficult economic situation in the country", Iraqi journalist and political analyst Ziad al-Sinjari told Diyaruna.
He accused these militias of "actively destroying the Iraqi economy", pointing out that one of the main goals behind their attacks on international missions is to deliver a message to the world that Iraq is "not safe for business".
If foreign investment is stymied, the Iranian regime stands to benefit, al-Sinjari explained, as Iraq is its main economic outlet, and can be exploited to mitigate the pressure of international sanctions.
The Iranian economy currently relies on the export of goods to Iraq, he said, adding that the Iranian regime also milks Iraq for funds by plundering its national resources.
Iran-backed militias have been implicated in extortion operations and threats of kidnappings and assassination levelled at businessmen and investors, he said.
As a result of these activities, many investment and development projects in Iraq have stalled, he said, which has impacted employment, exacerbated the poverty crisis and affected public services.
Iran and its agents share an interest in harming Iraq, al-Sinjari said, and to this end they have been thwarting international investment and preventing industrial projects and large production plants from being rebuilt.