Iraqi police have seized from the house of an "Islamic State of Iraq and Syria" (ISIS) element in Mosul a collection of books stolen from churches, Ninawa Police Chief Brig. Laith Khalil al-Hamdani said Monday (September 21st).
The 32 books, some of which are understood to be old Christian texts that may be irreplaceable, were stolen from churches during the group's control of Ninawa province, he said.
They were found inside the militant's house in the Mosul area of ​Bab al-Jadid after he was arrested, along with 19 envelopes containing documents pertaining to the same books, al-Hamdani said.
"The terrorist hid these items in his kitchen inside a metal box that he covered with cement in order to conceal it," he added.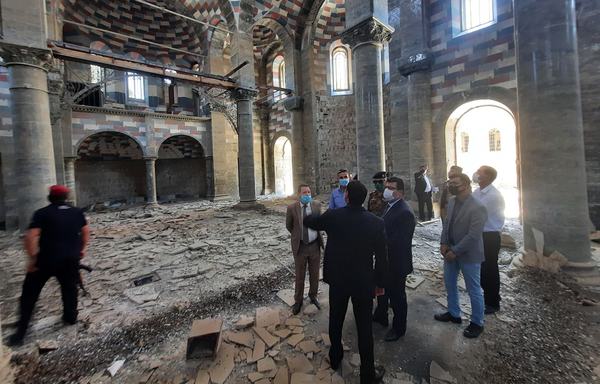 The books and documents that were found will first be examined to verify they are in good condition, said Musab Mohammed Jasim, who heads the Damaged Archaeological Sites Committee in Ninawa.
The General Authority for Antiquities and Heritage will then be contacted in order to send the items for safekeeping in Baghdad, he told Diyaruna.
Protecting Iraq's heritage
The recent discovery, along with all other efforts to recover artefacts stolen by ISIS, came as a result of a "joint high-level co-ordination effort" between security forces, the Culture Ministry and Ninawa Antiquities and Heritage Department personnel, Jasim said.
After Ninawa province was liberated from ISIS in 2017, many stolen archaeological artefacts and rare items that the militants were planning to smuggle out of the country were recovered, he said.
Iraqi intelligence on July 10th announced it had found 18 artefacts in an ISIS hideout in Mosul that were to be smuggled abroad.
He noted that most stolen artefacts were not taken from museums but looted from archeological and ancient sites in the country.
"During their control of Ninawa, ISIS elements dug out many such sites in order to excavate antiquities for trading and smuggling purposes," said Jasim.
One of the most affected sites was the Tell Nabi Yunus [Prophet Jonah] shrine, he said, "where the terrorists dug an underground network of tunnels to search for archaeological treasures in the palace of Assyrian King Esarhaddon".
"ISIS has also damaged mosques, historic churches and many other sites by using them as shelters and fortifications in order to block the security forces' advance," he said.
Jasim said efforts to protect Iraq's heritage include searching for artefacts smuggled by ISIS to countries abroad.
There is international co-operation with Iraq to restore its antiquities, he said, and a large number of artefacts have been returned after being found in international auctions and confiscated by Interpol.