In a manifestation of growing tensions in regime-controlled areas, residents of the western rural Damascus town of Kanaker set fire to a banner of Syrian President Bashar al-Assad and blocked roads with burning tyres, an activist said.
The actions came in protest of the Syrian regime's continuing arrests of civilians, including the arrest on Sunday (September 20th) of three women and a child, Damascus-area activist Muhammad al-Beik told Diyaruna on Wednesday.
The women and child were detained at a checkpoint manned by Syrian air force intelligence branch elements at the bridge in the town of al-Taybeh, he said.
According to a statement published by the Syrian Network for Human Rights (SNHR), the four were taken to an undisclosed location.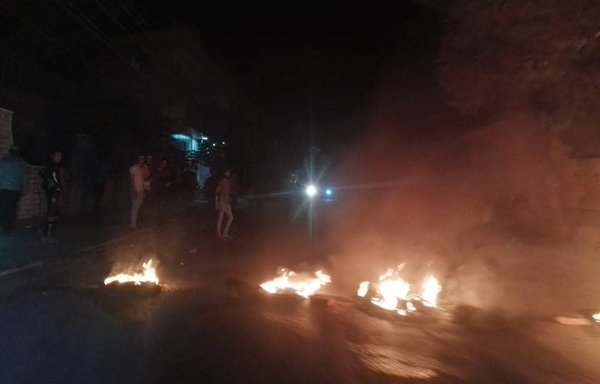 The arrests were conducted without legal arrest warrants being issued by a court and with no family members being informed of their arrests or whereabouts, the statement said.
Further, the women's phones were confiscated, preventing them from contacting their families or lawyers, it added, raising concerns that they will be subjected to torture and ultimately classified as forcibly "disappeared".
Kanaker residents blocked the town's main road with burning tyres and staged demonstrations to protest the regime's repeated targeting of local residents.
Al-Beik noted that it is unusual for demonstrators in regime-controlled areas to burn the image of al-Assad.
Constant tensions in Kanaker
In a separate incident, a youth from Kanaker was arrested a few days ago as he was tending to business at a government institution, al-Beik said.
"There is constant tension in the town between residents and regime forces, with altercations taking place on a daily basis," he added, noting that youth are being pursued and then led away to perform compulsory military service.
"People are being arrested simply for contacting relatives in the northern region of Syria, where a large number of the town's residents remain in displacement camps for fear of being arrested if they return to their homes," he said.
Tension prevails in many villages and towns in western rural Damascus for the same reasons, he noted, but most gatherings and demonstrations are taking place in Kanaker.
Protestors often demand the overthrow of the Syrian regime and call for Iran's Islamic Revolutionary Guard Corps (IRGC) and allied militias to leave Syria.
Al-Beik also said basic services are severely lacking in this area -- with non-functioning or dilapidated infrastructure, electricity, water, roads and waste services -- despite the regime's repeated promises to devote attention to it.