The Syrian Democratic Forces (SDF) handed over the remains of Syrian soldiers killed by the "Islamic State of Iraq and Syria" (ISIS) in 2014 to the regime, a local official told Diyaruna.
The remains were buried in two mass graves that were recently discovered in al-Raqa province.
Kurdish internal security forces (Asayesh) found the graves with the help of residents of the village of Farhaniya in Ain Issa, northern al-Raqa, White Helmets volunteer Hamad al-Matar told Diyaruna.
So far, they have exhumed more than 30 bodies from the two graves, he said.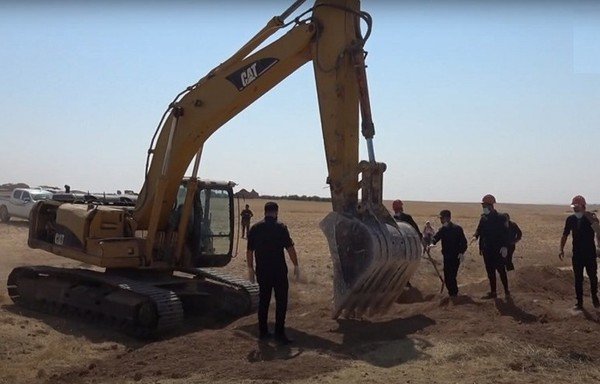 Syrian soldiers who had belonged to the 93rd Brigade were executed at the headquarters of the 17th Division in the area, he said, even though they had surrendered to ISIS after a lengthy siege.
Civilians in the area had buried the bodies out of respect for the sanctity of the dead, he said. They did so out of sight of ISIS elements to avoid punishment.
As soon as the exhumation process started, the SDF's Public Relations Office contacted regime forces stationed in an area near Ain Issa to arrange the handover of the remains.
The Asayesh and the SDF have recently stepped up efforts to hunt down ISIS's sleeper cells, remove all traces of the destruction that occurred during the fighting with the group, and search for mass graves.
Most importantly, they are organising social activities for the region's residents to heal the psychological and social effects of ISIS's control, al-Matar said, especially given that al-Raqa was the group's main stronghold at the height of its power.
Residents reject ISIS practices
Media and social activist Ammar Saleh told Diyaruna the newly discovered mass graves are further evidence of the criminality that permeates ISIS's ideology, "as the soldiers were executed while unarmed after contact with their command was cut off and the officers who were with them fled".
At that time the relationship between the people of al-Raqa and regime soldiers was hostile, "yet the residents still buried the bodies [of the killed soldiers] despite the risk they faced", he said, a sign of their rejection of ISIS's practices.
They continue to reject the group, he added, as evidenced by their close co-operation with the SDF in uncovering ISIS sleeper cells and collaborators.
With the two newly discovered graves, the number of mass graves that have been uncovered to date is 29, Syrian journalist Muhammad al-Abdullah told Diyaruna.
At least 6,040 bodies are believed to be buried in those graves, he said.
The challenge of identifying the bodies is big, he said, noting that only 700 bodies have been identified to date because of the difficulty of conducting DNA testing on the bodies and the members of the victims' families, he said.
Uncovering the identities of the killed Syrian soldiers poses less of a challenge though, he noted, as they can be crosschecked against the registry of missing Syrian regime soldiers.