Iraqi forces arrested on Monday (September 21st) three "Islamic State of Iraq and Syria" (ISIS) elements after they infiltrated the border from Syria.
"Iraqi army and border guard forces arrested three ISIS terrorists who had crossed the border from Syria to the town of al-Qaim," Anbar tribal commander Sheikh Qatari Samarmad al-Obeidi told Diyaruna.
Among those arrested was a senior commander called Abu Mohammed al-Iraqi, who oversaw the collection of funds for ISIS elements and their families, he said.
The militants were apprehended in an ambush that was based on intelligence supplied by the National Security and National Intelligence Services, he said.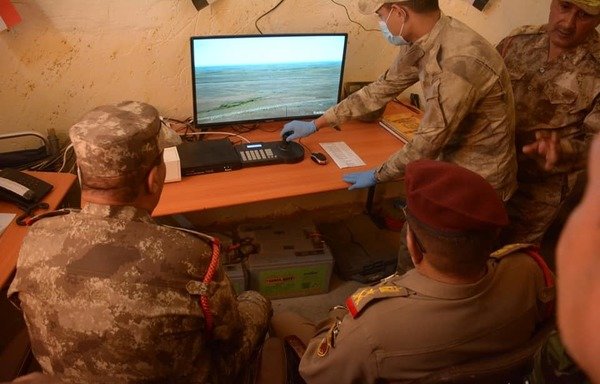 The operation is part of a broader effort by security forces to block ISIS infiltration attempts from Syria, al-Obeidi said, noting that at least four attempts are thwarted every month.
The task of securing the border with Syria primarily lies with Iraqi forces in the absence of Syrian forces in many border areas adjacent to Iraq, he said.
Enhancing border security
A roughly 350 kilometre long section of the border strip separating the Anbar desert from the desert in the Syrian province of Homs "is the most challenging to secure", he said, "as it includes Syrian territory with no security presence whatsoever".
"ISIS gangs are exploiting the security vacuum there to infiltrate Iraq, but they are often captured by our troops, who intensively monitor over 800 kilometres of border with Syria, Jordan and Saudi Arabia," said al-Obeidi.
Security forces are deployed at outposts and observation posts on the border and regularly conduct patrols, he said.
"But the borders need more fortifications to secure nodes and gaps whose rugged terrain provide the terrorists with an opportunity to infiltrate [Iraq], especially during bad weather conditions," he added.
It is also necessary to install more thermal cameras, barbed wire and BRC fences, he said.
The Interior Ministry plans to deploy about 12,000 security personnel on the western border to support the security forces there, al-Obeidi said.
They include recently reinstated military personnel whose contracts were discontinued after they failed to report back to their posts during the security incidents that occurred following the takeover of ISIS in mid 2014.
Returning soldiers are currently undergoing training in the bases of Ein al-Assad in Anbar and al-Taji in Baghdad to raise their physical and combat preparedness.