After a new wave of fish mortalities, fishermen and fish breeders in al-Dalmaj Marsh, southern Iraq say they have lost their only source of livelihood.
In early August, the marsh in Diwaniyah province was covered with thousands of tonnes of dead fish, resulting in heavy economic losses.
Iraq produces some 30,000 tonnes of fish each year, mainly raised in rivers, lakes and marshes.
Ali Hussein, a fishermen in al-Dalmaj, told Diyaruna the latest wave of fish mortalities in the marsh is a major disaster. "We have lost our sole source of income. Fishermen used to come to the marsh from several provinces. Now they are unemployed," he said.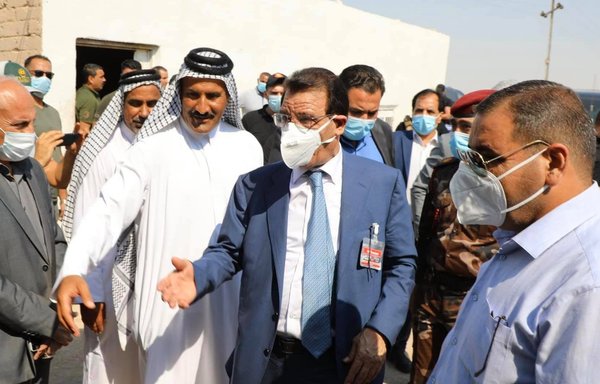 This particular marsh is a source of income for more than 1,600 families. It is unique due to its diverse fish population which includes binni, carp and gattan.
'Invisible hands'
Abu Fahad al-Ameri, another fisherman at the marsh, told Diyaruna his fish farm has turned into a fish graveyard. "We are exhausted. The millions of dinars we invested disappeared in a flash," he said.
Demanding compensation from the government, he said the fish's sudden death is not natural and "there are invisible hands behind this level of destruction".
Economist Abdul Rahman al-Mashhadani said he would not rule out the involvement of "certain parties whose interests have been harmed by self-sufficient fish farmers" in this incident.
Over the past two years, tens of thousands of tonnes of fish were wiped out, with Babel province being the most affected. As a result, Iraq incurred millions of dollars in monetary loss and environmental damage.
Al-Mashhadani told Diyaruna that similar incidents have occurred repeatedly, affecting the fishing industry and agricultural products. The latter, he said, was the result of wheat and barley crops burning.
He said it seems that a disaster occurs each time a production sector in Iraq announces it has become self-sufficient. This leads to assuming "intentional targeting".
Some people accuse groups affiliated with Iran's Islamic Revolutionary Guard Corps (IRGC) of targeting the fishing industry in order to flood the Iraqi market with imported Iranian products, said al-Mashhadani.
However, he said, many parties are being accused and only an official investigation could reveal the truth.
Pollution, drought, bad practices
Mansour al-Baiji, deputy chairman of the parliamentary agriculture committee, said what happened in al-Dalmaj Marsh constituted "targeting of the fishing industry".
He called on the government to protect the industry from "malicious actors" that are trying to harm the country's economy.
On August 10th, Iraq's Ministry of Agriculture formed a committee to conduct a field investigation into the causes of the al-Dalmaj Marsh incident. The committee ruled out the presence of pests or viral infections, and said that illegal fishing -- using toxic pesticides -- and environmental pollution, were two possible culprits.
Ministry spokesperson Hamid al-Nayef told Diyaruna the decrease in water quantities in rivers and water bodies puts fish populations at risk of perishing.
Oxygen levels decrease with drought, causing waste to spread. This exposes the fish to disease and ultimately death, said al-Nayef.
He said illegal practice is prevalent in fish farms and breeders fail to adhere to the established measures in raising fish. He cited those among reasons behind the mortality among fish population.
The ministry has implemented strict measures, he said, including requiring breeders to have a veterinary specialist oversee the fish farming process in their farms, thus acting as a link between the farmers and the ministry.
"We also provide farmers with vaccines," he added.
Agricultural expert Adel al-Mukhtar told Diyaruna fish production could be doubled "if more interest was shown towards fishing in territorial waters and high seas".
"We currently have 1,500 out-of-commission boats across the country. If they are repaired and the fishing sector is further developed, fish production could increase to 300,000 tonnes annually," he said.
Mass mortality occurs because of fish population density, he said, noting that it occurs when the number of schools of fish increases from 10 to 200 in areas less than five square kilometers, al-Mukhtar said.