As temperatures soar in Syria's Idlib province, there has been an increase in heat-related illnesses at displacement camps, a local activist told Diyaruna.
Several people also have been killed in fires, including three children from the same family, Idlib activist Musab Assaf said.
Temperatures have soared to record levels, reaching 46 degrees Celsius in some areas, he said, leading to numerous cases of heat exhaustion or sunstroke.
Inside the camps, there is no protection from the heat other than canvas and plastic tarps, Assaf said, noting that some camps also suffer from a shortage of water, which makes it more difficult to cope with the heat.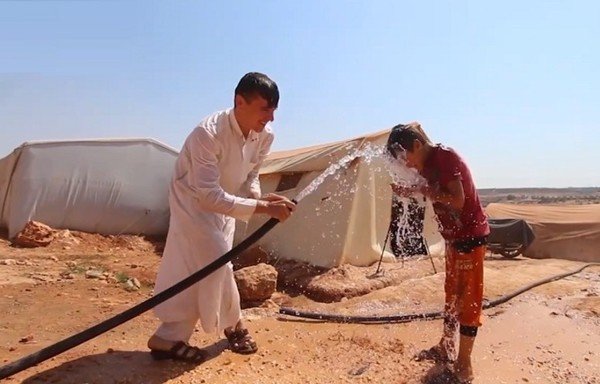 High temperatures have led to dry conditions and a resulting increase in the outbreak of fires, he said, with a blaze in Kafr Nouran camp near Barisha claiming the lives of three young children and seriously injuring their mother.
The White Helmets, along with humanitarian organisations still operating in the province, are trying to supply the displaced population with water and advising them on how to prevent heat-related syndromes, he said.
Meanwhile, Assaf said, the fighting continues, with a civilian killed and others wounded following Syrian regime shelling of the southern Idlib city of Ariha.
Sufuhon and al-Fatira also were shelled, but no civilian casualties were reported.
Increase in coronavirus cases
A UN official on Tuesday (September 8th) said more than 40 members of the UN staff and their families have caught coronavirus in Syria, AFP reported.
There were about 200 people including "staff and dependents, spouses, children, parents, who have displayed symptoms of COVID-19", said Jens Laerke, spokesman for the UN Office for the Co-ordination of Humanitarian Affairs.
"From these 200, there are 42 staff and dependents who have been confirmed positive with COVID-19," he added.
Three people had to be medically evacuated, but most of the others had only "mild" symptoms, he said, adding that the virus had sickened people working in different UN agencies across the country.
"It caught us at a time where we have seen a very significant rise, or increase, in the level of COVID-19 in Syria," Laerke said.
"We believe community transmission is widespread, and that the actual cases exceed those that are officially recorded."
Since the start of the pandemic, Syria has officially recorded 3,229 cases of COVID-19, with 137 deaths registered in regime-controlled areas.
But in the past weeks, doctors and activists have voiced concerns on social networks of a possible explosion in the number of virus cases.