Members of Iraq's Shabak minority in the Ninawa Plains are compiling evidence of the violence the community has suffered at the hands of extremists in order to ensure those responsible are held to account.
Similar to the fate of other minorities in Iraq, the Shabaks were the target of attacks by the "Islamic State of Iraq and Syria" (ISIS) when it overran large swathes of Iraq in 2014, resulting in hundreds of victims.
And even prior to the emergence of ISIS, Shabaks suffered for years from bloody attacks targeting their villages.
The most violent took place in September 2009, when two car bombs exploded in the village of Khazna, destroying at least 70 homes and killing more than 50 Shabaks.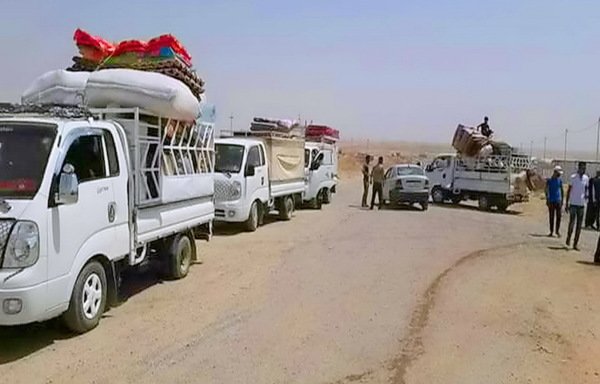 The attack was "part of a systematic terrorist campaign" against the Shabak community that started during the sectarian violence that engulfed Iraq at the time, Iraqi MP Qusay Abbas, deputy chairman of the human rights committee, told Diyaruna.
Al-Qaeda elements, and later on ISIS, killed and injured thousands of Shabaks in armed and suicide attacks targeting Ninawa Plains villages where Shabaks are the majority, including al-Mowafaqiya and Babyakhout, he said.
When ISIS overran the Ninawa Plains, the inhabitants of more than 20 Shabak villages fled after their homes were destroyed and set on fire by the militants, he said.
Abbas, who belongs to the Shabak community, said the Shabaks have compiled "detailed files" on the extremists' crimes against the group, including the names of 233 individuals abducted by ISIS whose fate remains unknown.
The Shabak community worked to gather this evidence in order to support investigations that could lead to "prosecuting and convicting terrorists of the heinous crimes they have committed", he said.
"We continue to call on the government to focus more on families affected by terrorism and provide them with fair compensation," he added.
'Precarious security situation'
MP Salim Jumaa, a member of the Shabak community, called for an investigation into the number of Shabaks who were killed by al-Qaeda and ISIS, which he places at nearly 2,300.
He also called for uncovering the fate of young Shabaks who were abducted by ISIS and who remain unaccounted for.
ISIS militants bombed hundreds of Shabak homes in Mosul and Ninawa Plains and seized their assets, he told Diyaruna. They also destroyed cultural sites, looting valuable belongings inside.
Despite ISIS's defeat, remnants of the group are still present in Ninawa Plains areas inhabited by the Shabaks and other minorities, who are experiencing "a precarious security situation", said Jumaa.
Additionally, the spread of armed factions has contributed to the deteriorating security conditions, as there are areas with lax security where extremists may gather, he said.
Victims of 'systemic violence'
ISIS remains a threat that looms over ethnically diverse societies in the Ninawa Plains region, said Anas al-Azzawi, a member of Iraq's High Commission for Human Rights.
ISIS has been expelled from these areas but the group's remnants continue to exploit tensions in order to gain a foothold, he told Diyaruna.
The Shabaks have been subjected to "systemic violence" at the hands of extremists who target all ethnic groups "in an effort to obliterate diversity", he said.
"Our office in Ninawa province is currently receiving complaints and reports from families of victims of terrorism including from the Shabak community and others," said al-Azzawi, adding that the office is also investigating the fate of missing abductees.
"We are interested in gathering information and documentation that condemn ISIS members for all the crimes they have committed against minorities," he said.
"We have handed over many files and incriminating evidence to the UN investigation team and we continue to work with them in order to arrive at fair trials for terrorists," he said.