In the wake of the massive explosion at Beirut's port earlier this month, Iraqi authorities have taken precautions to clear hazardous chemical materials from sea ports, airports and land crossings.
Immediately following the August 4th explosion, Prime Minister Mustafa Kadhemi ordered Iraq's General Authority of Customs to form an emergency committee to inventory the hazardous materials stored at the country's ports and border crossings.
The committee is tasked with identifying and relocating the materials to safe locations, far away from populated areas, to prevent "any repetition of what happened in Lebanon", the committee said.
Iraq's Port Authority and security forces on August 7th conducted an inventory of 173 containers of chemical substances stored in the northern Port of Um Qasr in Basra.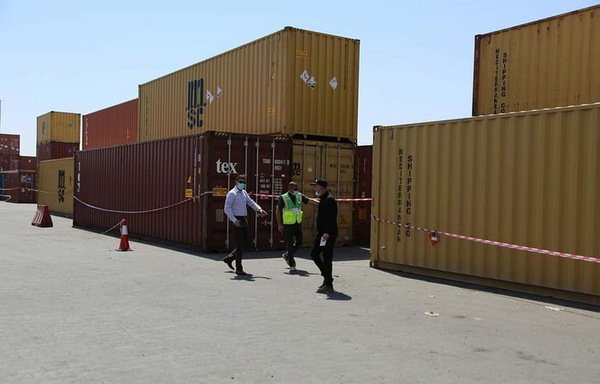 On August 10th, accompanied by members of the Iraqi army, nine containers of the Oil Ministry's hazardous material stored in Um Qasr were transferred to safe locations.
Iraqi officials also stated that "highly hazardous substances were safely transported from the cargo section at Baghdad International Airport to warehouses owned by the Military Engineering Directorate".
Beirut blast 'a wake-up call' for Iraq
The government must take measures to ensure that explosions like the devastating blast at Beirut's port do not occur in Iraq, said security expert Mohammed Razzaq al-Rubaie.
The Lebanon explosion was "a wake-up call" for the Iraqi government, which has quickly mobilised to avoid such an incident, he told Diyaruna.
There have been several incidents in Iraq during which weapons and missiles stored in warehouses exploded because safety protocols were not followed, he said.
For example, twice this year, most recently on July 26th, ammunition stored at al-Saqr military base in al-Dora neighbourhood of southern Baghdad exploded.
The biggest explosion of this type occurred in 2018, when ammunition stored in al-Sadr city exploded, killing 18 people, injuring dozens of civilians and damaging a large number of nearby homes.
The Iraqi government must work harder towards disarmament and removal of hazardous material from cities, al-Rubaie said. The authorities should also identify and restrict dangerous shipments entering Iraq and properly dispose of or secure them.
Continuous measures required
The government's safety and security measures should be implemented continuously and preventively, not only in response to an emergency situation, economist Saleh al-Hammash told Diyaruna.
It is important to handle hazardous material with extreme caution as soon as it arrives at ports, he said, adding that the government should strictly control the storage of imported goods to stop corrupt entities from interfering in the management of ports.
"That type of interference," he said, "would compromise regulations and safety."
Al-Hammash called for conducting comprehensive maintenance of warehouses, particularly those in sea ports, since any incident would have a domino effect on other port facilities.
Regular electrical and air-conditioning checkups are necessary, as they are safety measures to prevent significant human and material losses and environmental damage, he added.
Monitoring combustible imports is of utmost importance, said Fouad Ali Akbar, a member of the Baghdad provincial council.
"We must do everything we can to avoid the risk they carry," he told Diyaruna. "All measures should be taken to preserve the lives and properties of Iraqis."