A state of chaos and lawlessness prevails in the north-western Syrian province of Idlib due to the proliferation of weapons among civilians, a local activist said.
This compounds the overall fragility of the security situation, as it comes amid escalating tensions brought on by renewed Syrian regime shelling and Russian airstrikes, Idlib activist Musab Assaf told Diyaruna.
Local arms dealers have been selling weapons under the protection of Tahrir al-Sham, which largely controls the region, he said. These arms have been used in quarrels and disputes, resulting in a number of injuries and fatalities.
Under the control of the extremist alliance, a state of unprecedented lawlessness has emerged in the Idlib region that directly threatens the lives of the civilian population, he said.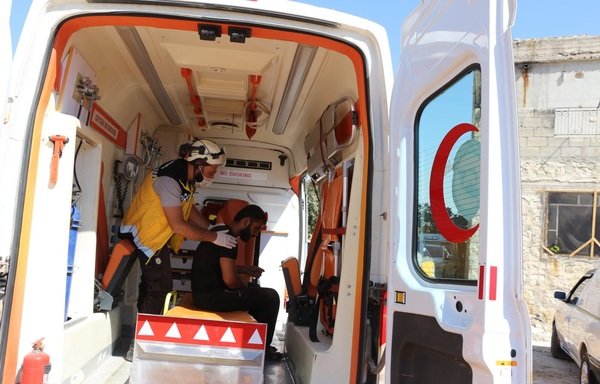 There has been a proliferation of weapons in the area following a spike in the activity of weapons dealers, who have opened several stores that sell personal firearms, such as pistols and automatic rifles, Assaf said.
These merchants have the full protection of Tahrir al-Sham, he said, noting that it reaps most of the profits, while the merchants merely earn a commission.
This is because Tahrir al-Sham is the source of these weapons, he said.
Tahrir al-Sham has confiscated hundreds of firearms during its raids, he noted, while arms dealers provide the purchaser with a permit to carry the weapon.
Civilian injuries and casualties
The proliferation of weapons has led to deaths and injuries among the civilian population, as the use of firearms in quarrels has become common, Assaf said, even in displacement camps, where a number of people have been killed.
Stray bullets from celebratory gunfire also have caused injuries and deaths.
These shops present an additional danger as they are located in residential areas, Assaf said, and there is a strong possibility that an explosion will occur.
Dozens of people were injured during an incident of this nature nearly two weeks ago in the centre of the city of al-Dana, he said.
The general state of lawlessness has been getting worse recently, he said, noting that with the resumption of regime and Russian shelling and airstrikes, Tahrir al-Sham has been focused on combat rather than policing activities.
Recent regime shelling resulted in civilian casualties in the town of Takad, he said, while regime soldiers were killed or wounded during fierce fighting in the areas of al-Fatira and Hazarin in southern rural Idlib.