Syrians taking part in vigils held on the anniversary of the regime's August 21st, 2013 chemical attack on Eastern Ghouta stressed the need to ensure the perpetrators are held to account, a local activist said.
Activists, civilians and relief and medical organisation workers held vigils in the city of Idlib and some surrounding areas on the seventh anniversary of the attack on the former opposition enclave outside Damascus.
An estimated 1,400 people were killed in the attack, in which the nerve agent sarin was used. Sarin is known to cause symptoms such as breathing problems, vomiting, fainting and foaming at the mouth.
It can cause seizures, paralysis and can prove fatal.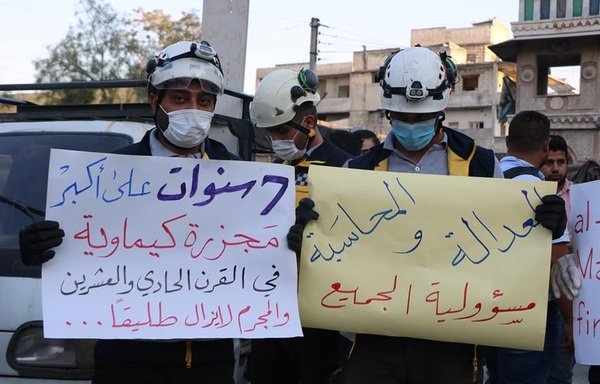 Those taking part in the vigils renewed their demand that the regime of Syrian president Bashar al-Assad be held to account for the incident, for the sake of all those who lost their lives, Idlib activist Haisam al-Idlibi told Diyaruna.
Activists launched the hashtag #DoNotSuffocateTruth on social media.
The social media campaign drew a vigorous response, with users sharing photos of the vigils and the victims, as well as videos documenting the 2013 attack.
Witnesses, White Helmets join vigils
Among those taking part in the vigils were internally displaced persons (IDPs) from Eastern Ghouta -- including some of the victims' families and some who were eyewitnesses to the attack, al-Idlibi said.
Members of the White Helmets -- who had been the first to arrive at the scene of the attack, and rescued those who could be rescued -- also turned out in force for the anniversary vigils, he said.
A team of UN investigators in September 2013 announced it had found "clear and convincing evidence" that sarin gas was used in the attack.
Towns that were hit during the deadly incident included Zamalka, the Zainiya area in the town of Ain Tarma, and the area between Zamalka, Arbin, and Moadamiya in Western Ghouta, al-Idlibi said.
US Secretary of State Mike Pompeo recalled the attack on Ghouta as he announced a third wave of sanctions on senior political, military and financial figures in the Syrian regime on August 20th.
The sanctions are being imposed as part of the Caesar Syrian Civilian Protection Act of 2019, which seeks to prevent al-Assad's normalisation without accountability for human rights abuses.