The western Anbar district of al-Rutba is moving forward with plans to rehabilitate services damaged during the battle to oust the "Islamic State of Iraq and Syria" (ISIS) despite challenges, a local official said Tuesday (August 18th).
Al-Rutba's reconstruction plan continues in various fields despite the novel coronavirus (COVID-19) pandemic and measures that have been put in place to curb its spread, al-Rutba governor Imad al-Dulaimi told Diyaruna.
"Several service projects in our plan for this year have been completed," he said, including the rebuilding of the Agriculture Directorate building, the repair of seven main roads and the rehabilitation of the diesel station.
A number of projects are expected to be completed before the end of this year, notably the main water project, which extends from Ramadi to al-Rutba, and the al-Sakar water pumping station, east of the city, he added.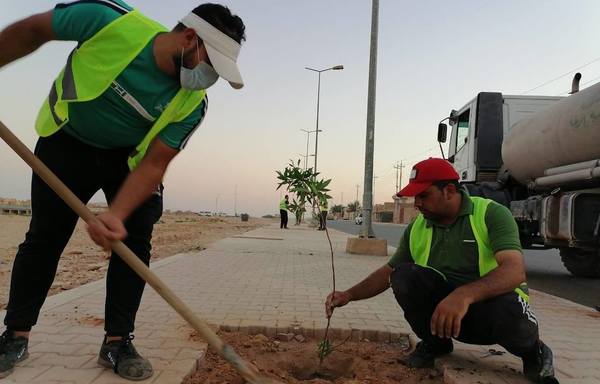 The project to build the 12-classroom al-Makasib school is nearing completion, and should be ready for the start of the new school year, along with a number of other schools that are being renovated, al-Dulaimi said.
A project to rehabilitate the eastern entrance to the city will be completed in October, he said, and a project to restore al-Rutba's administration building is almost complete, as is one to repair the government gas cylinder factory.
Development programmes
Most international support in the district comes via the UN Development Programme (UNDP) and US Agency for International Development (USAID).
UNDP oversees work on a number of projects in co-ordination with government agencies, including a project to erect electricity poles and restore power distribution lines to residential neighbourhoods, al-Dulaimi said.
The UN also oversees a large campaign to clean up the city that employs about 200 day labourers, he said.
Meanwhile, USAID's Recovery programme has helped to equip the diesel power station with operating equipment and feeders, he added.
It has provided tankers and vehicles for water and municipal departments, and electricity to al-Rutba Hospital, and supervises the rehabilitation of 21 local farms to improve agricultural and livestock conditions in the district, he said.
Regarding the reconstruction of private homes, al-Dulaimi said there remain "55 completely destroyed houses in the district and more than 200 houses with varying degrees of damage".
Local residents have submitted requests to rebuild their homes and properties to the government committee in charge of compensating terror victims, he said, but have yet to receive financial compensation.
This remains "a major obstacle" to the return of displaced residents to al-Rutba district, al-Dulaimi said.