Iran-backed Iraqi militants continue to fight in Syria in support of President Bashar al-Assad, but their involvement is met with rejection in Iraq.
Iraqi political expert Mohammed al-Tamimi said Iraqis have become more aware of the influence Iran's Islamic Revolutionary Guard (IRGC) exerts on militias.
He told Diyaruna this is especially noticeable since the October protests in Iraq, when Iran-backed Iraqi militants took part in the crackdown on demonstrators and the abduction of activists.
In the past, funeral processions for Iraqi militants killed in Syria were widely attended. Recent funeral processions, however, have been small and generally attended only by militia members.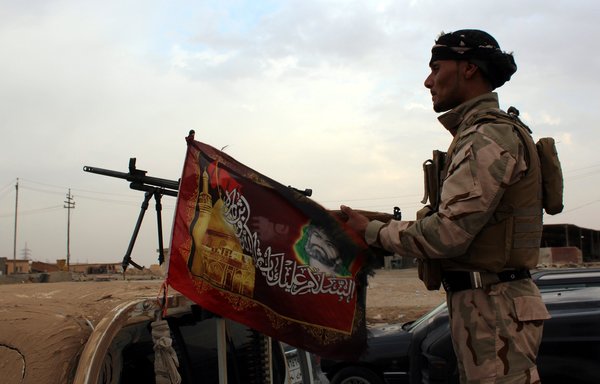 Many Iraqis view fellow citizens fighting in Syria as IRGC mercenaries and reject their resistance-themed slogans of defending the holy sites.
Thousands of Iran-backed militants are in Syria to fight alongside Syrian regime forces. They are members of Kataib Hizbullah, al-Tufuf, Asaib Ahl al-Haq, al-Nujaba, al-Budala, Sayed al-Shuhada and al-Khorasani, which are all supervised by IRGC units to support the Assad regime.
Firas Elo, a member of the Iraqi Civil Movement, told Diyaruna the IRGC "can no longer come up with religious excuses for fighting, and has a hard time recruiting volunteers from Iraq to fight in Syria".
These days Iraqis only respect those who participated in the liberation of their cities from the "Islamic State of Iraq and Syria" (ISIS), he said.
'No justification for militia presence in Syria'
Elo said the Iraqi government should prohibit Public Mobilisation Forces (PMF) payments to Iraqis fighting in Syria to defend al-Assad. These payments hold Iraq accountable to the international community, especially under the Caesar Act.
The Caesar Act, which went into effect mid-June, penalises companies worldwide that deal with the Assad regime and blocks US reconstruction aid until perpetrators of abuses in Syria's war are brought to justice.
The Syrian Observatory for Human Rights reported in early August that Kataib Hizbullah militants are stationed in Badiyat al-Mayadeen (the Mayadeen desert) in eastern rural Deir Ezzor. The report said military vehicles were spread out in the al-Khor and Tayyarat, about 20 kilometres deep into the Syrian Mayadeen desert.
According to the report, Observatory sources said the militia installed pre-manufactured concrete bunkers where they were deployed, which indicates that the Iran-affiliated forces are continuing their efforts to consolidate their presence in the area.
Mohammed Abdullah al-Mashhadani, a member of the Iraqi National Forces Coalition, told Diyaruna the presence of Iraqi elements in the Syrian conflict is no longer acceptable or justifiable.
"Iraqi militia members are clearly serving the Iranian regime's interests in a conflict in which Iraq has no part," he said, adding that their presence in Syria "threatens Iraq's civil peace".
There is no religious justification for their presence either, as they are deployed to areas quite far away from holy sites, he said.