Following the Friday (August 14th) assassination of a prominent activist in the city of Basra, Iraq's Independent High Commission for Human Rights called on the government to enforce the law and deliver justice.
The assassination is one of many in recent months, with Iraqi extremism expert Hisham al-Hashimi among the prominent figures who have been killed.
The commission warned that civil society activists continue to be targeted.
Tahseen Usama al-Shahmani, who was well known among local protestors, was shot to death with 21 bullets on Friday by unknown gunmen, who raided his business on central Basra's al-Bahou street.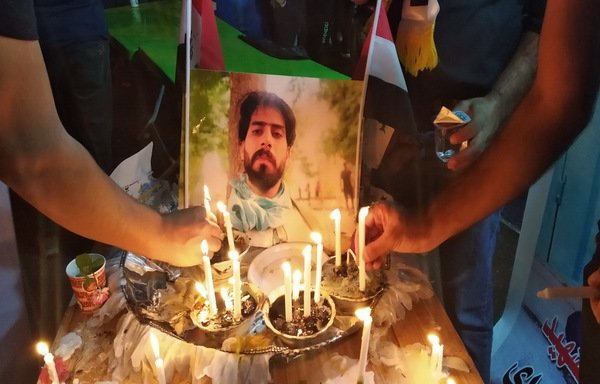 The failure to identify the perpetrators behind previous attacks on Iraqi activists and public figures "encouraged the militias that seek to silence voices and oppose freedom of speech to continue their crimes", the commission said.
The commission stressed that government and security agencies are "responsible for protecting citizens and civil society activists".
Protesters demand justice
Al-Shahmani had been active in the protest movement in Basra, said Mahdi al-Tamimi, director of the commission's Basra office.
He had a prominent role in supporting the peaceful demonstrations, he told Diyaruna, adding that the Basra police, Intelligence Directorate and National Security Directorate have opened an investigation into his death.
The commission is "closely following the investigation, and hopes for the results to be revealed quickly", he said, noting that this is also a demand of the people of Basra.
Protests broke out Sunday in central Basra as people took to the streets to condemn the killing of al-Shahmani, a father of four, and demand punishment for those responsible.
The responsibility for apprehending the perpetrators rests with the security services, "but we in the commission want the government to enforce the law and deliver justice", al-Tamimi said.
The commission also calls for the strengthening of security and intelligence efforts and for the protection of citizens, "and activists in particular, since they are the voice of society demanding rights and a life with dignity", he added.
Leaving these crimes unpunished makes living in Iraq "unsafe", he said.
Before al-Shahmani's assassination, numerous activists and media professionals who had supported the protests that broke out last October were killed.
Among them were Tigris satellite channel correspondent Ahmed Abdul Samad and photographer Safaa Ghali, activist Hussain Adel and his wife Sara Taleb, and protester and paramedic Jinan Madhi al-Shahmani, also known as Umm Jinat.