Over the past two months, more than 2,500 displaced Yazidi families have made their way back to Sinjar -- the largest wave of returns since the "Islamic State of Iraq and Syria" (ISIS) was driven out of the district almost five years ago.
About 85% of the district's infrastructure was damaged by ISIS and during the battle to oust the group. Sinjar was classified as a disaster area in 2016, and much of it remains in disrepair.
But many families have opted to return, even though their damaged homes have yet to be repaired and public services are lacking.
Late last year, the authorities started to rehabilitate damaged infrastructure and public services, but the effort stalled amid the novel coronavirus (COVID-19) pandemic and Iraq's ongoing economic crisis.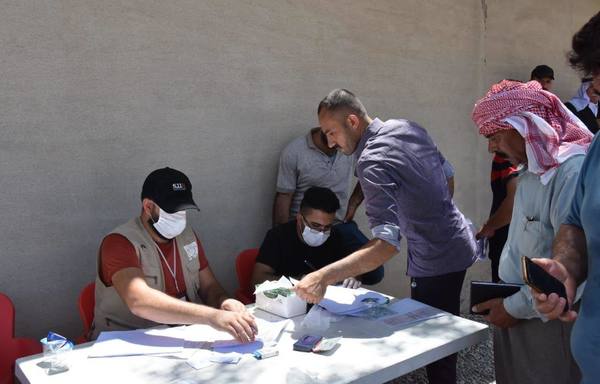 An additional challenge to Sinjar reconstruction efforts is that there are two local authorities: one is part of the Kurdish regional government, while the other, headed by mayor Fahd Hamed, represents Iraq's federal government.
Since early June, more than 2,500 Yazidi families who had been living in displacement camps have returned to central Sinjar and to Sinjar's Sanuni sub-district, as well as other areas, Hamed told Diyaruna.
They chose to return, despite the paucity of public services, because they "are fed up with life in the camps", he said.
Many are now living with relatives, as their houses are uninhabitable, he said, while some families in al-Nasr (central Sinjar), have set up tents near their damaged houses.
This is intended to "send a message to all government authorities to hasten the pace of reconstruction", he said.
"We demand large-scale reconstruction campaigns and an end to the displacement crisis in the district," he said, calling for compensation so people can repair their homes and financial incentives to encourage their return.
Creating a safe environment
An international conference should be organised to raise funds for the reconstruction of Sinjar, said Hassou Hurami, who heads the Netherlands-based Yazidi Foundation.
"Officials from the local authority and the government have recently visited Sinjar and promises were made to lift the district out of its difficult conditions," he told Diyaruna.
"We hope these promises will quickly be translated into actions and all obstacles and challenges can be overcome," he said, stressing the importance of meeting the needs of displaced families who have chosen to return to the district.
In addition to reconstruction and the provision of services, "a safe environment must be created for these families", he said.
"We have to guarantee that there will be no repeat scenario of the disasters that occurred at the hands of terrorists when they invaded Sinjar on August 3rd, 2014," Hurami stressed.
ISIS displaced thousands of Yazidis, destroyed neighbourhoods, killed people and kidnapped women and children "in one of the most barbaric and heinous crimes of terrorism that can be classified as genocide", he said.
The security situation is a key reason why many of Sinjar's displaced population hesitate to return home, said Khairi Bouzani, general director for Yazidi affairs at the Ministry of Endowment and Religious Affairs.
"Only a small number of the district's original residents now reside there," he told Diyaruna.
Prior to this latest wave of returns, nearly 20,000 families returned to Sinjar following liberation of the district, he said, noting that Yazidis residing in displacement camps in Dohuk province "exceed 300,000 in number".