Iraq's Ministry of Migration and Displacement announced Tuesday (August 11th) it will be facilitating the return of hundreds of families displaced by the "Islamic State of Iraq and Syria" (ISIS) to Diyala province, an official said.
The ministry began efforts to return 430 displaced families from al-Wand camps in Khanaqeen district to their homes in Diyala's al-Muqdadiya district, Diyala Department of Migration and Displacement director Ibtihal al-Daini told Diyaruna.
The families were forced to flee after ISIS overran their villages in mid-2014, she said, noting that they represent the largest batch of internally displaced persons (IDPs) to return to their homes in years.
The step comes "as a result of the stable security situation in [Diyala] and the improved level of public services", she said.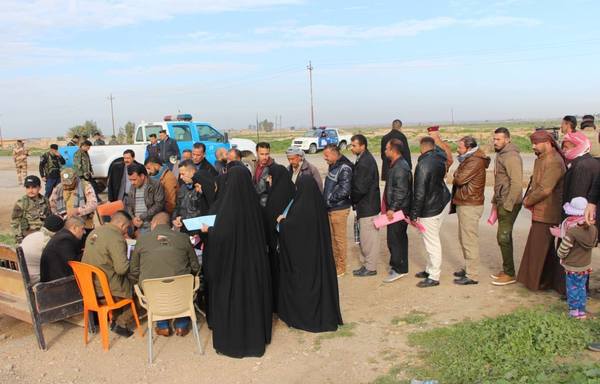 More displaced families will return soon to other areas in Diyala in co-ordination with security forces, said al-Daini, "with a second batch comprising about 550 displaced families expected to return to the areas of al-Saadia, Jalawla and Khanaqeen".
"We have come a long way towards ending the problem of displaced families in our province," she said.
"We have brought back about 80% of the displaced population," she said, with tens of thousands of families having returned in recent years.
According to the ministry's figures, more than 34,000 families have returned to Diyala since ISIS was defeated in late 2017.
Government support
A "limited number" of displaced families are still living in camps, she said, including 800 families in Khanaqeen camps and more than 100 in the Saad displacement camp in the city of Baquba, Diyala's provincial capital.
A smaller number of families are staying in shelters outside the province, al-Daini said.
The ministry provides food rations to newly returning residents as well as financial grants to help them meet their basic needs, she said.
The aim is to "encourage them to integrate in their areas and resume their jobs and daily life as normal", she said.
Meanwhile, the ministry continues to distribute food baskets and provide relief and health support to the families residing in the camps, al-Daini said.
"We continue our work to provide a supportive environment for both displaced families and those who have returned," she said.