International coalition forces recently handed over to Iraqi forces, during an official ceremony, a military training base used to prepare troops for the fight against the "Islamic State of Iraq and Syria" (ISIS).
The July 25th handover of Basmaya base, around 60 kilometres south of Baghdad, means Iraqi officers trained by international coalition experts are now able to train Iraqi army and police personnel themselves, officials said.
This ensures sustainable capacity building for Iraqi personnel, they added.
The handover "is a positive step that indicates that our troops have achieved a good level of progress, thanks to the partnership with coalition forces", said Joint Operations Command spokesman Maj. Gen. Tahseen al-Khafaji.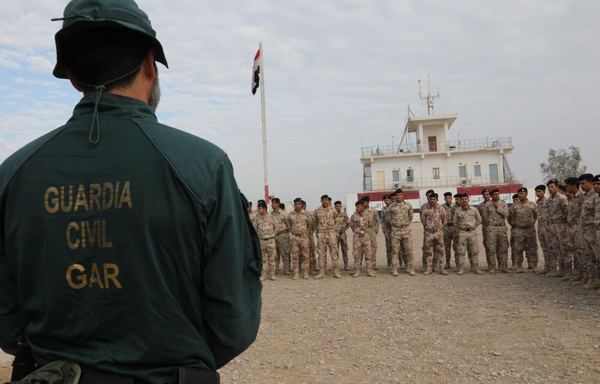 Nearly 50,000 Iraqi army personnel, federal police and Border Guards have received training at Basmaya over the past few years, he told Diyaruna.
International coalition partners at the base have accomplished the mission entrusted to them, he said, and it is now "incumbent upon Iraqi trainers to lead efforts to improve the capabilities of remaining troops".
"Our work with the coalition will not come to an end," al-Khafaji said, noting that co-operation will continue in the fight against extremism.
Additional coalition sites will be handed over to Iraqis "in the near future".
Basmaya expanded, equipped
Al-Khafaji noted that Spanish and Portuguese forces played a leading role in conducting training at Basmaya base.
They expanded the base by "building classrooms, barracks, shooting ranges and urban combat training sites at a total cost of $4 million", he said.
Basmaya is the seventh base used by international coalition forces to be transferred to Iraqi forces this year, as the latter becomes increasingly independent in launching military operations against ISIS.
The US contributed $1 million towards supplying Basmaya with energy and providing protective gear and equipment, according to a coalition statement.
According to the coalition's deputy commander for strategy, Maj. Gen. Gerald Strickland, the Basmaya handover is "part of an ongoing partnership between the Iraqi security forces and the international coalition", the statement said.
Iraqi forces trained at Basmaya "were critical in the liberation of Mosul three years ago", he said, adding that the base "serves as a shining example of Iraqi military capability".
The coalition has supported the development of this facility, enabling the Iraqi army to equip a force that is capable of eradicating ISIS remnants, Strickland said.
In the same statement, Col. Leopoldo Ramirez, the coalition's senior national representative for Spain, said the train-the-trainer courses "were highly successful in building a sustainable future for Iraqi-led training programmes".
More than 5,000 Spanish soldiers served 12 rotations at Basmaya, he said.
"They can be very proud that their Iraqi partners have assumed full control and are capable of operating independently for a secure and stable future of Iraq," he added.
'Clear indication of progress'
Iraqi forces are prepared to take control of Basmaya and are able to independently conduct training programmes, said Iraqi MP Badr al-Ziyadi, who serves on the parliamentary security and defence committee.
Many skilled Iraqi officers and soldiers received training from international coalition forces at Basmaya, he told Diyaruna.
The handover of the base is "a clear indication of the progress achieved in the structure and capabilities of our forces", he said, noting that Iraqi forces are now prepared to take over security and rehabilitation responsibilities.
Coalition forces remain in two military bases: Ain al-Asad in Anbar and Camp Harir in Erbil, intelligence expert Fadel Abu Ragheef told Diyaruna.
With the help of the coalition, Iraqi forces have acquired significant expertise in urban combat, conducting evacuations and handling light and heavy weapons, as well as providing first aid to the wounded, he said.
These military skills are "a key factor in the progress that has now been achieved against the enemy and the positive results on the path to destroying their resources and ability to regain a foothold", he added.