Iraqi forces on Monday (August 3rd) arrested seven "Islamic State of Iraq and Syria" (ISIS) elements in Ninawa province, the Interior Ministry said.
Intelligence and counter-terrorism units "arrested six ISIS elements in separate areas of Ninawa province, who are wanted for trial in accordance with the Iraqi Counter-Terrorism Law", the ministry said in a statement.
Two of the detainees worked under the "Al-Sarem al-Battar Brigade" using the aliases Ahmed and Hussein; "Abu Obeida" worked in ISIS's "general military camps"; and "Abu Tabarak" fought with the "Ain Jalout unit".
Another detainee who goes by the alias Mahmoud worked with the "Marwan Camp", and "Abu Salah" was a member of ISIS's "Wilayat Ninawa".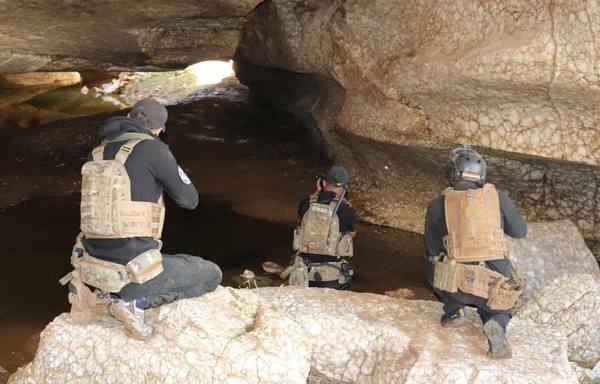 All six detainees admitted to being involved in attacks against security forces and citizens during ISIS's control of Ninawa, the statement said.
Also on Monday, the Ninawa police and intelligence services arrested an ISIS element in the area of al-Obour in western Mosul, said Ninawa Police Chief Brig. Laith Khalil al-Hamdani.
The militant was responsible for transporting equipment and supplies to ISIS camps during the group's period of control, he added.
Quality operations
The latest arrests are the result of joint efforts by security forces and intelligence teams to hunt down former ISIS fighters, said Binyan al-Jarba, who serves on the Ninawa provincial council's security committee.
These quality operations require gathering accurate data and conducting extensive investigations to uncover the terrorists' hideouts, in heavily populated or in remote areas, he told Diyaruna.
The Iraqi forces' improved skills and their efforts to build trust with local populations "are some of the main factors behind the successes achieved in uprooting ISIS remnants", he added.
During periodic meetings between the Ninawa provincial council and security leaders, participants always focus on the importance of encouraging citizens to report terrorists and enhancing security with advanced technology, he said.
Al-Jarba pointed out that security at the Syrian border remains the main topic of discussion at these meetings.
"We always reiterate that fortifying the border and maintaining control of the areas near it is absolutely necessary in order to ensure that terrorists are not able to regain a foothold," he said.
"The borders are safer today, and tighter measures are in place," he said, "especially in border areas in Sinjar district and Rabia, which in the past saw many infiltration attempts through secret passages and roads."
Security and intelligence forces on Sunday arrested a group of families of ISIS fighters who were trying to infiltrate from Syrian territory into Iraqi villages located in the town of Rabia, western Ninawa.