Iraq's Rapid Response Division on Tuesday (July 28th) completed its search operations to clear Diyala province's Abu Saida district of "Islamic State of Iraq and Syria" (ISIS) remnants, an official said.
Rapid Response forces, together with other army, federal police and mobilisation units, launched a large-scale search operation Sunday of villages and orchards in ​​Abu Saida and its outskirts, division media director Lt. Col. Abdul Amir al-Mohammedawi said.
The operation was part of the "Heroes of Iraq" military campaign's fourth phase, launched July 11th to comb the border strip with Iran -- including areas in eastern Diyala -- and the areas separating federal forces from the Kurdish Peshmerga.
Abu Saida occasionally experiences security breaches, including mortar shelling, armed attacks, assassinations, and acts of arson in orchards.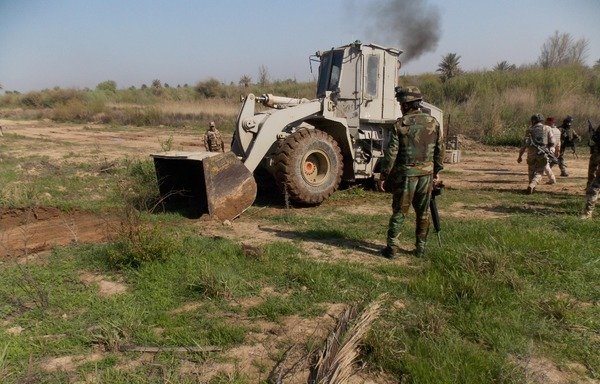 Sixty-six villages and orchards were searched in the effort to secure Abu Saida and al-Muqdadiya district, the Joint Operations Command said in a statement Tuesday.
Security forces found 10 hideouts and destroyed 19 IEDs, including three that contained high-impact C4 explosives, the statement said.
They also seized 20 Katyusha rockets, an RPG-7 launcher, 11 mortar shells, and assorted weapons and ammunition, it said.
Preventing ISIS infiltration
The district was completely searched during the operation, al-Mohammedawi told Diyaruna.
Iraqi forces arrested three wanted individuals accused of planting and detonating IEDs, launching armed attacks on residential homes and security forces and laying ambushes, he said.
The operation was carried out "with great co-operation with the local population", he noted.
Agricultural villages in Abu Saida like al-Mukhaisa and Abu Karma, "are now safeguarded against the threat of ISIS remnants", he said.
While there were no ISIS hotbeds in the district, some remnants were infiltrating orchards and areas with dense vegetation to hide and carry out terror attacks, he said, noting that these were "limited hit and run acts".
The danger from these elements is largely receding "thanks to the continuous operations to clear Abu Saida and tighten security there", he said.
The Rapid Response Division's operations also aim to "impose the state's authority" and to "prohibit all illegal arms possession", he added.