Local youth and media workers in Idlib deserve credit for risking their lives to expose "rampant human rights violations and war crimes" revealed in a new UN Syria Commission of Inquiry report, activists told Diyaruna.
Syrian children, women and men endured "unfathomable suffering" during a military campaign launched by the regime and its allies at the end of 2019 to re-take control of the last opposition-held areas, the report said.
The report, released July 7th, covers the period from November 2019 to June.
Syrian forces, backed by Russian jets, "carried out air and ground attacks which decimated civilian infrastructure, depopulated towns and villages, and claimed the lives of hundreds of Syrian women, men and children", the report said.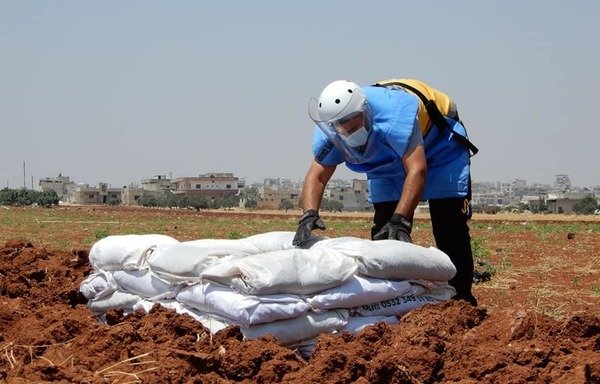 When civilians fled the "widespread and indiscriminate bombardment", Tahrir al-Sham extremists pillaged their homes, it said. They also "detained, tortured and executed civilians expressing dissenting opinions, including journalists".
The investigation recorded 52 attacks that led to civilian casualties or damage to civilian infrastructure, including 17 on hospitals and medical facilities, 14 on schools, nine on markets, and 12 on private homes.
Victory for human rights
The UN report is "a victory for humanity" and supports the rights of civilians who were abused by the parties indicted in the report, including the Syrian regime, Russia and Tahrir al-Sham, said White Helmets member Khaled al-Khatib.
"Cluster bombs are perhaps the most brutal weapon used against civilians, as they are responsible for the largest percentage of deaths and injuries," he told Diyaruna.
Russian and Syrian warplanes dropped these munitions in a systematic fashion during the period covered by the report, al-Khatib said.
"These crimes will not be easily erased from the minds of Syrians, especially children, as not one family in the Idlib region was spared the death or injury of one of its members," he said.
"This in addition to the tragedy of displacement that has turned the lives of civilians into hell and wracked them with fear of the military machine pursuing them," he said.
The White Helmets (Syrian Civil Defence) are trying to the best of their ability to stand by civilians, bring them relief, and organise social and recreational activities for children, al-Khatib said.
White Helmets teams also are continuing to use their modest resources to remove the rubble of destroyed homes and pave roads riddled with craters caused by rockets to facilitate the return of the displaced population, he said.
Activists, youth targeted
"The credit for exposing these crimes and revealing them to the whole world -- leading to international condemnation -- must go to the youth [residing] in dangerous areas in Syria," Syrian lawyer Bashir al-Bassam told Diyaruna.
He pointed in particular to youth in Idlib, Hama, Aleppo and the outskirts of Latakia.
Many of these young people "sacrificed their lives to reveal the truth of what is happening on the ground and document these crimes", he said, noting that they were directly targeted by Russian and Syrian airstrikes and artillery fire.
The White Helmets also deserve credit, he said, as they are documenting the atrocities civilians are subjected to and providing evidence supported by figures, names and accounts of injuries, with follow-up on critical cases.
"These teams have themselves been directly targeted with gunfire, shelling and airstrikes," al-Bassam said, suggesting they have been targeted for their work in documenting the crimes against civilians.
Tahrir al-Sham has intensified its surveillance and pursuit of activists in the areas under its control, said Hani al-Numan, an activist from the Idlib town of Maarat al-Numan who is currently displaced to the border region.
"Many activists and media workers have been pursued and subjected to arrest and questioning for reporting news with accuracy that does not suit the policy pursued by the group," he told Diyaruna.
Tahrir al-Sham recently prohibited journalists from submitting their reports without prior approval from its media office, he said, in order to impose an information blackout and ensure reports of its abuses do not get out.
The fate of a number of youth detained by Tahrir al-Sham remains unknown, he said.