Iraqi activists are calling on the security authorities to extend their utmost efforts to free a German national who was kidnapped Monday (July 20th) on Baghdad's Abu Nawas Street.
Hella Mewis, who ran arts programmes at Iraqi art collective Tarkib, had left her office and was riding her bicycle when two vehicles, one of them a white pickup, were seen kidnapping her, a security source and a friend told AFP.
Security forces immediately launched an operation to search for Mewis, forming a team comprising forces from the intelligence service and criminal police personnel to investigate the case.
"Efforts are under way to uncover the location of the German citizen and to secure her release," said Interior Ministry spokesman Maj. Gen. Saad Maan.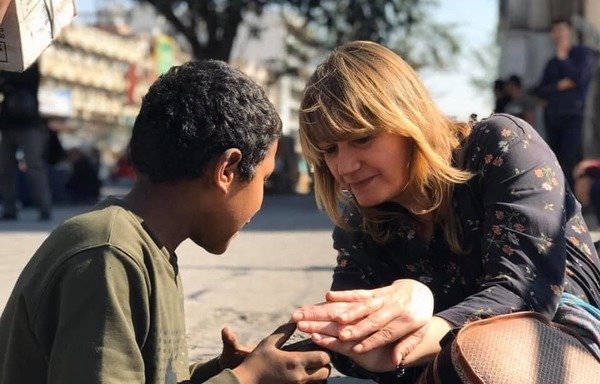 "The issue is receiving much attention," he said, noting that Interior Minister Othman al-Ghanimi has directed security forces to intensify search operations.
The German Foreign Ministry on Tuesday said that a crisis team had been set up following the incident.
"The authorities should find out the activist's fate, apprehend the perpetrators, and prosecute them for this reprehensible act," said Ghazi Faisal Hussein, an adviser to the Iraqi Centre for Strategic Studies.
Such "cowardly acts" should not be tolerated, he told Diyaruna, calling for a transparent investigation.
"We are facing serious crimes that threaten national security," he said, adding that those responsible for such crimes are challenging the rule of law.
Their goal seems to be to spread chaos and push Iraq towards a breakdown, detract from the prestige of state institutions and present it as unable to provide protection to its citizens, residents and foreign interests, he said.
Abductions of foreigners
It is most likely that Iran-aligned militias are behind the German citizen's kidnapping, military expert Jalil Khalaf told Diyaruna.
These militias have been widely blamed for a spate of kidnappings and assassinations in Iraq since popular protests broke out late last year, he said.
Around 550 people have died in protest-related violence, including two dozen activists who were shot dead by unidentified men, usually on motorcycles.
Dozens more were kidnapped, some of whom were later released near their homes. The whereabouts of others remain unknown.
Amnesty International has slammed the incidents as "a growing lethal campaign of harassment, intimidation, abductions and deliberate killings of activists and protesters".
This year has seen a worrying spike in abductions of foreigners.
On New Year's Eve, two French freelance journalists were taken hostage for 36 hours and three French NGO workers were held for two months.
These "dark agents" seek to harm Iraq's reputation, isolate it from the international community and tarnish its reputation, by signaling that Iraq remains an "unsafe and dangerous environment", Khalaf said.
'Message of intimidation'
"This is a message of intimidation to investors, businessmen and to those who work at humanitarian organisations and international support missions," Khalaf said.
There can be no stability, progress or prosperity "as long as these groups see themselves free from accountability and able to escape punishment", he added.
"We want the government to use all of its powers to search for Mewis and bring her back safely to her family, friends and loved ones, and to hold the kidnappers accountable," he said.
"Mewis is a friend of Iraq who loves the country's heritage and culture, evidenced by her having lived in Baghdad for several years and helped train Iraqi youths in the arts," he added.
Since the kidnapping, social media has been flooded with posts by Iraqi activists calling for her release, under the hashtag #free_hellamewis.