The Iraqi government this month allocated funds to improve living conditions for internally displaced persons (IDPs) and the country's poor, who are facing added challenges amid the novel coronavirus (COVID-19) pandemic.
The $262 million allocation will go to businesses that support IDPs who still reside in the camps, and will be used to upgrade the services provided to camp residents and support infrastructure projects in impoverished communities.
These financial allocations came as new statistics show that poverty has increased from 20% in 2018 to 31.7% so far this year, Ministry of Planning media director Abdul Zahra al-Hindawi told Diyaruna.
This means there are 11.4 million Iraqis, out of a population of more than 39 million, who live in poverty, al-Hindawi said.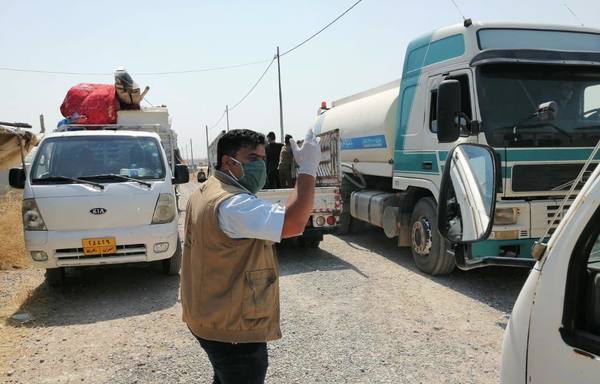 He explained that the recent increase "is a result of the COVID-19 pandemic that has significantly affected the poor and those who earn a meagre daily wage, as jobs have partially or completely disappeared".
"This is what we call transitory poverty, which occurs due to a crisis," he said, noting that the repercussions of this crisis will affect society's most vulnerable.
The Ministry of Planning has been adjusting its strategic plan in order to alleviate poverty in line with emerging societal conditions, al-Hindawi said.
The additional funding focuses on expanding relief and emergency support for IDPs, securing their return and allowing them to resettle in their homes, as well as increasing public services and job opportunities in low-income areas, he said.
Al-Hindawi noted that, based on the latest statistics on poverty, the ministry has recommended that federal and local authorities work together to confront the effects of the coronavirus crisis and take urgent measures in response to it.
"We suggested releasing new funds for poor people and increasing their food and relief rations, health and education services and skill development," he said.
Assisting the displaced population
Mohammed al-Obaidi, who resides in Anbar's al-Madina al-Siyahiya camp, told Diyaruna he hopes there will be increased focus on displaced families and their needs.
"Life in the camps remains difficult, even if there is food and relief support," he said. "Now, with the pandemic, living conditions are even more difficult."
"Many of the menial jobs that we did, and earned little from, have dried up as a result of the pandemic," he said.
For its part, the Ministry of Migration and Displacement intends to stand by all IDPs by providing necessary supplies to the camps, said Ali Jahankir, director general of the ministry's Directorate for Branch Affairs.
"Over the past six months, and in collaboration with the security forces, our teams have succeeded in handing out 1.8 million rations to IDP families, which include food and health items," he told Diyaruna.
"Our efforts continue as we seek to confront the effects of the pandemic on the living conditions of both the IDPs and the returnees," Jahankir said.
A joint effort is needed to address the poverty crisis among this segment of the population, he said, with the ministry continuing to provide food and relief services "as we follow a well-researched plan to close down all camps".
There are currently 47 camps, down from the previous 174, he said, and the ministry hopes it will be able to close even more this year, in accordance with ministerial guidance that supports a policy of voluntary return.
Returns are being facilitated in collaboration with international relief organisations and UN agencies.
In Mosul, for example, the International Organisation for Migration is planning to build nearly 150 houses over the next few months in order to rehouse the displaced population and restore normal life to the city, Jahankir said.