Iraqi forces have been making significant progress against "Islamic State of Iraq and Syria" (ISIS) remnants on the edges of Diyala province as part of the fourth phase of the "Heroes of Iraq" military campaign.
The operation, which covers an area of ​​approximately 18,000 square kilometres, focuses on combing the border strip with Iran and the areas separating federal forces from the Kurdish Peshmerga, which ISIS had previously exploited to gain a foothold.
Since the campaign kicked off on Saturday (July 11th), about 60 hideouts and more than 200 rocket-propelled grenades and improvised explosive devices (IEDs), including high-impact IEDs, have been destroyed.
Seven explosive belts and large quantities of ammunition also have been destroyed, and eight motorcycles have been seized.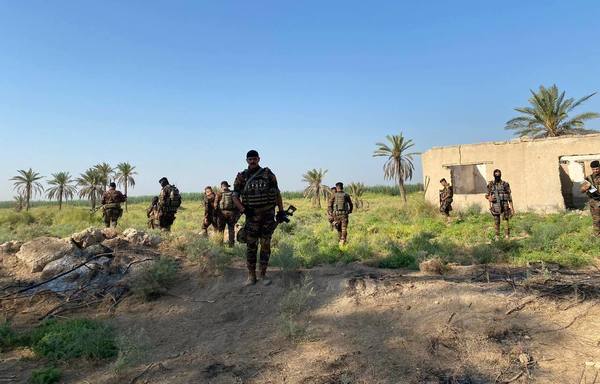 Security forces also cleared and took control of 186 villages; killed three ISIS elements, wounded two others and arrested seven suspects.
'Most successful operation'
The recent campaign has been "one of the most successful security operations" considering the major results achieved on the ground, said Iraqi MP for Diyala Ahmed Muzhir al-Jubouri.
The villages and areas covered by the operation used to pose a real threat to the security of the province and the entire country, he told Diyaruna.
Despite a reduction in terrorist activity in these areas over the past few years, the threat remained, he said, noting that ISIS remnants try to carry out attacks against civilian and military targets from their hideouts.
These hideouts are mostly concentrated in the rugged Hamreen Hills, areas north of al-Muqdadiya, and the outskirts of Khanaqeen district bordering on the Kurdish region, said al-Jubouri.
The administrative border with Salaheddine province, where there are many unsecured areas, is also a hot spot, he said.
The campaign has cleared 95% of that territory, which has been thoroughly searched, he said, noting that Iraqi forces have killed or arrested a number of ISIS elements and uncovered their bases and weapon caches.
Fixed checkpoints
The most important measure was to establish fixed checkpoints to control areas of lax security, al-Jubouri said, noting that about 20 checkpoints have been set up so far, making it harder for extremists to seek refuge in those areas.
The towns of Sheikh Baba, al-Islah and al-Zour, in addition to the strategic villages of Qara Taba district, have been fully secured, he said.
Qara Taba is the scene of intense operations as part of the military campaign, in light of its strategic location at the intersection of al-Sulaimaniya, Salaheddine and Kirkuk provinces, al-Jubouri noted.
One week before the start of the campaign, senior military leaders, led by al-Jazeera Operations commander Maj. Gen. Qassim al-Mohammedi, set up camp in Qara Taba to review the deployment plan and directly supervise the search operations.