Anbar province officials have pledged to resolve the issue of internally displaced persons (IDPs) "very soon", after 20 of the 22 remaining camps in the province were permanently shut.
Just a few years ago, Anbar province had 70 displacement camps.
Mustafa Hamed, an Anbar official at the Ministry of Migration and Displacement, told Diyaruna the only two camps that remain open are al-Ameriya and al-Madina al-Siyahiya in eastern Anbar.
Ministry 'actively working' to facilitate return
Hamed said shutting down these camps was a natural outcome of the much lower number of IDPs in Anbar.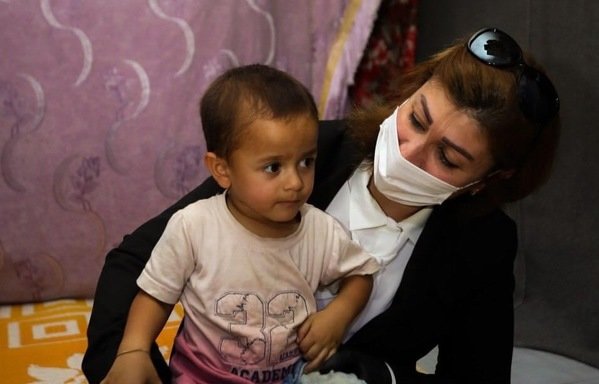 Currently, he said, there are 1,706 displaced families in Anbar; a significant decrease from the 70,000 families displaced during the war on the "Islamic State of Iraq and Syria" (ISIS).
That number includes families both from Anbar and other Iraqi provinces.
He said the Ministry of Migration and Displacement, in collaboration with several local governments, is intent on "immediately resolving the issues IDPs face once and for all" and is actively working on "addressing any challenges that could impede the return of families".
Most remaining families refuse to return to their homes for a host of reasons, mainly economic hardship, he said, noting that most displaced families cannot rebuild their damaged homes.
Other obstacles, he said, include tribal conflict, as well as the fact that their children attend schools where they currently reside, near the camps.
Incentives, conflict resolution
The International Organisation for Migration (IOM) is working with Iraq's Ministry of Migration to implement an incentive-based programme aimed at voluntary returns through providing financial aid to families.
IOM's programme initially covered 93 families (560 individuals), most of whom are from Fallujah district in eastern Anbar province.
Hamed said IOM will pay these families enough money to cover their rent for six months so they can get settled in their hometown. The organisation will also help families start small businesses based on their skills and qualifications.
Meanwhile, the conflict resolution committee of Iraq's Ministry of Migration is making efforts to reach out to tribal leaders to help resolve outstanding issues and facilitate a safe return for IDPs.
Successful preventive measures
Anbar mayor advisor Mazen Abu Risha told Diyaruna the province has taken necessary medical preventive measures to keep the displaced population in al-Ameriya and al-Madina al-Siyahiya camps safe, particularly in light of the spread of novel coronavirus (COVID-19).
Abu Risha said health officials have conducted routine rounds of fumigation and sterilisation inside the camps and distributed necessary health supplies, including sanitisers, among IDPs.
So far, camps in Anbar have not detected any COVID-19 contraction, which, according to Abu Risha, is thanks to the strict health measures taken.
Coronavirus contraction was detected at an IDP camp near Erbil in May.
Ali Abbas, another official with the Ministry of Migration, told Diyaruna the ministry is continuing to support displaced families in Anbar by providing food and aid supplies.
He said in early July, 5,970 relief packages were distributed among families in the two remaining camps.