Large reinforcements of Russian forces and allied pro-regime militias have been arriving in the city of Deir Ezzor and its environs in recent weeks, leaving al-Raqa and Damascus, where they were previously stationed, a local activist said.
Meanwhile, Deir Ezzor city has seen a diminishing presence of Iran's Islamic Revolutionary Guard Corps (IRGC) and militias that are allied with Iran, Deir Ezzor activist Jamil al-Abed told Diyaruna.
The IRGC and Iran-aligned militias have been consolidating their presence in the cities of al-Mayadeen and the strategic border town of Albu Kamal, he said.
The last few weeks have seen large Russian military movements, he noted, including the entry of dozens of forces backed by tanks and personnel carriers into Deir Ezzor city and its environs.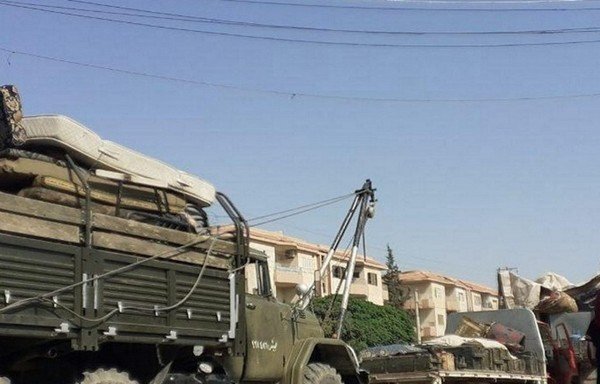 Local media outlet Deir Ezzor 24 on July 7th reported that a large Russian military convoy of about 30 tanks, 20 buses and pick-up vehicles with anti-aircraft machine guns had entered Deir Ezzor city from rural al-Raqa.
It was the fourth Russian convoy to withdraw from rural al-Raqa within a week.
The arrival of Russian forces and allied militias into this area comes amid a notable absence of the IRGC and Iran-aligned militias, al-Abed said.
Iran-aligned militias operating in the area include the Zainabiyoun Brigade, Lebanese Hizbullah and the Haidariyoun, which comprises Iran-aligned Iraqi militias Kataib Hizbullah, Asaib Ahl al-Haq and the Badr Organisation, he said.
Tensions between Russia, Iran-aligned militias
Tensions flared in Deir Ezzor's Jamiyat al-Rusafa district, on the outskirts of the city, when Kataib Hizbullah elements stationed there expelled militiamen of the National Defence Forces, a pro-regime militia that is close to the Russian forces.
"Deir Ezzor's Jamiyat al-Rusafa and al-Qusour districts are among the few areas in the city that are still under IRGC control," al-Abed said.
Russian forces also transported dozens of pro-regime Liwa al-Quds militiamen to Deir Ezzor, he said, who have begun to deploy in areas that used to be controlled by forces affiliated with the IRGC.
Liwa al-Quds militamen have been tasked with guarding al-Ward oil field, east of Deir Ezzor, after Russian and Russia-allied forces seized control of it earlier this month from Syrian regime forces aligned with Iran, al-Abed said.
Russian and Russia-allied forces also deployed in various areas of eastern Syria's al-Badiya (desert region) as far as the Homs desert, he said.
Al-Abed noted that a new militia has been formed to protect the phosphate mines, taken over by Russia pursuant to contracts that extend for decades.
As a result of their recent deployment, he said, Russian forces were able to firmly link the bases of their forces and affiliated militias in rural al-Raqa with those in the Deir Ezzor area and the Homs desert.
"This move has greatly restricted the movement of IRGC-aligned militias," he said.
'Deep concern' over access restrictions
Separately, the EU on Sunday (July 12th) voiced "deep concern" at a UN move to close an access point for humanitarian aid to Syria.
The UN Security Council passed a resolution Saturday to restart cross-border aid to Syria -- but only after caving to Russian pressure to stop access through the Bab al-Salam crossing, which leads to the Aleppo region in northern Syria.
EU diplomatic chief Josep Borrell and Crisis Management Commissioner Janez Lenarcic said authorising only one crossing would hamper the delivery of aid.
"It is a matter of deep concern that the resolution adopted after repeated vetoes by Russia and China authorises only one crossing point out of the two previously available to the UN," Borrell and Lenarcic said in a joint statement.
"The unconstructive approach of certain members of the Security Council is all the more regrettable at a time when needs have never been greater and in the context of the coronavirus pandemic."
Authorisation for the continued transport of aid to Syria, a system in place since 2014, expired on Friday night after Moscow and Beijing used their veto power and the Security Council then rejected a counterproposal from Russia.
With the approval of the German-Belgian proposal on Saturday, Bab al-Hawa crossing on Syria's north-western border with Turkey will be maintained for a year, until July 10th, 2021.