A recent "Islamic State of Iraq and Syria" (ISIS) attack on the Kakai minority in Diyala stirred up painful memories of its targeting of ethnic and religious minorities, including the Yazidis, when it overran swathes of Iraq in 2014.
Seven people were killed and others wounded in the June 13th attack on the village of Mikhas in the western Diyala province district of Khanaqeen -- the most lethal in the province since the start of the year.
The attackers targeted the Kakai (Yarsan) -- a religious minority whose members are concentrated in southern Kirkuk and in Ninawa Plains.
Though there have been sporadic attacks on villages in remote areas, local officials told Diyaruna there has been an increased security presence in these areas which has largely kept would-be attackers at bay.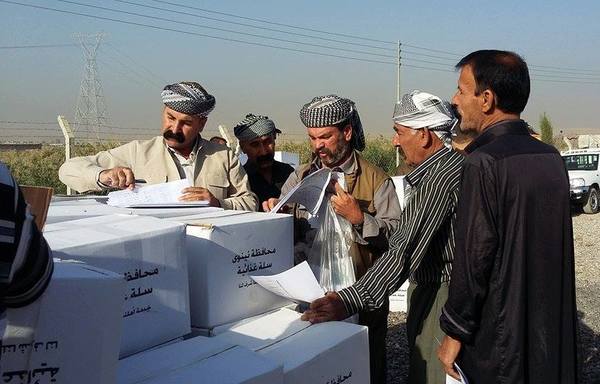 Following the Mikhas attack, the Kakai community called for the Iraqi government to further enhance security operations in the area.
"ISIS is no longer strong, as it was in the past, but its threat still persists," said Sayed Farhad Rifaat Kakai, a researcher of Iraq's Kakai community.
In the wake of the defeats it has suffered, the extremist group is now attempting to "unify its ranks", he told Diyaruna, describing the targeting of Kakai villages in Khanaqeen district, including Mikhas and Dara, as "alarming".
Villagers from remote areas are willing to support the security forces in their campaigns to crush ISIS sleeper cells in areas such as Hamreen, Jalawla, al-Dibs, Makhmour and Daquq, he said.
A bloody ideology
There are around 150,000 Kakai in Iraq, he said, spread across villages on the outskirts of Khanaqeen and Mandali in Diyala and in the Kirkuk province district of Daquq, as well as in south-eastern Mosul in Ninawa and in Suleimaniya.
ISIS has targeted the minority group, and kidnapped or killed a number of its members over the past two years, he said.
"Terrorists espouse an obscurantist ideology that considers anyone that does not believe in their way of thinking to be an infidel that deserves to be killed," he said. "Kakais have fallen victim to this bloody ideology just like other Iraqi minorities."
In the Kirkuk district of Daquq, Kakais reside primarily in four villages: Ali Saray, Tobzawa, Zanqar and Matiq, Daquq district mayor Louis al-Obeidi told Diyaruna.
ISIS attacked these villages several times in mid-2019, he said, "but the frequency of attacks fell this year as security operations increased in Wadi al-Shai and the area stretching to Hamreen hills".
There have been no recent attacks in Daquq district, as Kakai-majority villages are increasingly secured, al-Obeidi added, noting that a police station has been established in Ali Saray to enhance security.
"We have enough army and federal police units that are doing their job in properly protecting residents by constantly launching pre-emptive attacks against ISIS to eliminate its threat," he said.
Peaceful co-existence
By carrying out such attacks, extremist groups like ISIS are trying to cause panic among the civilian population, and among minority groups in particular, said Duraid Hikmat Tobia, director of Ninawa's Agriculture Department.
But these attacks are "a failed terrorist attempt to cover up the accomplishments and victories that our forces have achieved", he told Diyaruna.
Through its attacks on civilians and minority groups, he said, ISIS seeks to "foster the impression that it is once again strong and able to mount operations that threaten security and ethnic diversity".
"This is far from the truth, which is that it has failed in all its terrorist plotting," Tobia said.
He noted that Iraq's ethnic and religious minorities "are back in their homes, and live in an atmosphere of brotherhood and peaceful co-existence with other components of society".
"There might be some individual breaches, but overall things are good," he said.
In Ninawa province today, he added, residents "who belong to a variety of ethnicities and sects are safe and their communities are thriving".