A new grave was found Monday (June 29th) in Ninawa province that holds the remains of "hundreds" of Iraqis killed by the "Islamic State of Iraq and Syria" (ISIS) between 2014 and 2017, Iraqi authorities announced July 1st.
The grave is located in the town of al-Kasak, north-west of the city of Mosul, on the road to Tal Afar.
The Ninawa Martyrs Directorate received reports Monday from citizens and the National Security Service that human bones were found in an area known as al-Humaydat in the town of al-Kasak, directorate head Mohammed Askar al-Shaqouli told Diyaruna.
"We immediately headed to the reported location and made a preliminary examination that confirmed it to be a mass grave of victims killed by ISIS when it was in control of our province," he said.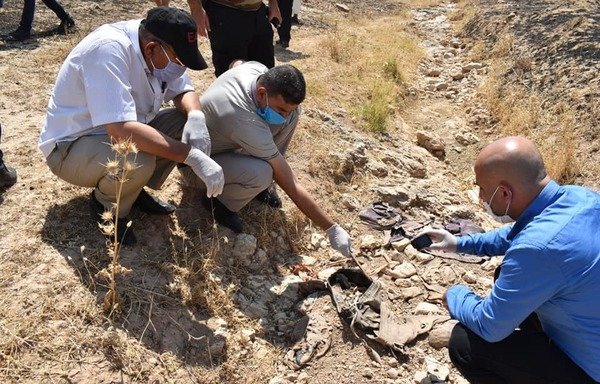 "We have received information from eyewitnesses that the group has buried between 500 and 600 victims at the site, making it, according to reports, one of the largest graves to be discovered in Ninawa," al-Shaqouli said.
Trousers, a "shemagh" (headscarf) and women's shoes could be seen at the site, indicating that the victims were civilians, including women.
The directorate has submitted a report of the preliminary inspection to the Martyrs Foundation in Baghdad, al-Shaqouli said.
A specialised governmental team will be formed to open the grave and conduct a more thorough examination, he said.
The team will include members from the Martyrs Foundation's mass graves department, the forensic medicine directorate and the Interior Ministry.
It will be responsible for extracting the remains, determining their number and identities, and finding out details surrounding the circumstances of their killing, he added.
"This new crime is yet another chapter in the chain of terrorist crimes, showing that [ISIS] are savages who take innocent lives in cold blood, with no regard for human and religious values," al-Shaqouli said.
"The terrorist group has left behind many mass graves in our province, including several in Sinjar district that held Yazidi victims," he said.
Al-Shaqouli noted that other graves have been found but not yet opened as they require intensive engineering effort to remove the boobytraps and improvised explosive devices planted in their vicinity.
Among the most prominent and largest of those graves is the al-Khasfa mass grave in southern Mosul, in the area of Hamam al-Alil, where ISIS is believed to have dumped the bodies of thousands of Iraqis.