Iraqi forces over the past month have launched dozens of intensive operations targeting "Islamic State of Iraq and Syria" (ISIS) remnants hiding in mountain and desert caves and grasslands.
The "war of attrition" ISIS leader Abu Bakr al-Baghdadi promised last year and ISIS's attempts to deceive its support base have all but collapsed in the face of these operations, military commanders and analysts told Diyaruna.
Security forces took part in wide-scale campaigns, including a continuation of Operation al-Jazeera Lions May 16th and 17th in the western desert.
The second phase of the Heroes of Iraq - Victory of Sovereignty operation was conducted in south-west Kirkuk from June 2nd to 4th, and on June 22nd, Iraqi forces launched the third phase in northern and eastern Iraq.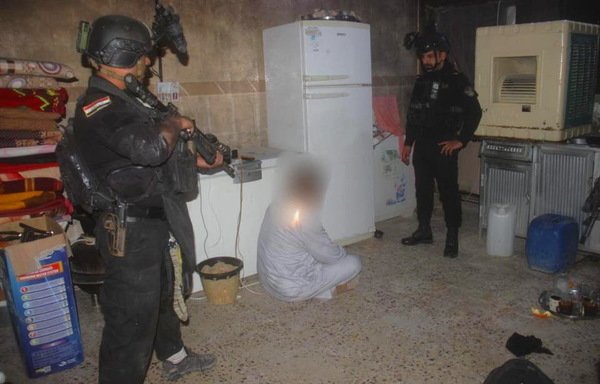 Maj. Gen. Imad al-Zuhairi, commander of Samarra Operations Command, said he recently led his forces to conduct a series of operations against ISIS remnants and managed to "close in on the enemy and thwart their plans".
ISIS remnants had "tried to move in small cells in villages with no inhabitants and to mount a few terrorist operations but we are constantly on their tail and have managed to kill and arrest them", he told Diyaruna June 18th.
The military operations have "depleted terrorists' resources and cut off transportation routes they had used for their attacks", he said.
"We now have advanced capabilities and technology to monitor terrorist movements, especially coming from remote villages and areas such as al-Azim Basin, al-Ayth and al-Salabkha, where we swiftly intervene and immediately target them," he said.
Dismantling ISIS's propaganda machine
Successive security operations "have destroyed the terrorist group's ability to expand its operations", said Imad Alaw, an advisor at the European Centre for Counter-terrorism and Intelligence Studies.
These operations "are very impactful against the enemy as they focus on terrorist targets that have been precisely identified through intelligence support in addition to combing vast swathes of rugged terrain", he told Diyaruna.
The operations resulted in "the killing and arrest of large numbers of terrorists and the destruction of tunnels, caves and surveillance and planning facilities in addition to ammunition and weapons depots", Alaw said.
Military pressure "has obliterated the media momentum the group built and its efforts to maintain its support base by promoting the concept of a 'war of attrition' and trying to raise morale, such as in the latest 'Strike Their Necks' video", he said.
The 50-minute video contained a compilation of clips that show various attacks ISIS elements carried out in the preceding weeks.
In an audio recording released end of May, ISIS spokesperson Abu Hamza al-Qurashi repeated what the group had been spreading over the past several months about the COVID-19 coronavirus being "a soldier sent by God to smite tyrants" and that it is "divine punishment".
Alaw explained that injecting the pandemic into the ISIS propaganda messaging is part of the group's efforts to "stir religious fervour among its members, tamper with their minds and deceive them so as to restart its terror operations".
"This is what happened to some extent in security soft spots before they were attacked by our forces," he said.
Dozens of ISIS elements killed, arrested
Any momentum ISIS's take on the pandemic had has quickly dissipated due to the security operations against the terrorist group, said retired Brig. Gen. Adnan al-Kanani, a security expert and former official in the Counter-Terrorism Service.
"The security forces, who have been trained to perform their duties to protect citizens under the harshest of conditions, intensified their military operations and deprived the group of the opportunity to catch its breath and realign its human resources and logistics as it had hoped," he told Diyaruna.
"The latest military activities, in which a variety of units participated, were co-ordinated to a high level and dealt a heavy blow to the group," he said.
Dozens of ISIS operatives were killed during airstrikes in support of operations targeting hideouts and several tunnels in the Makhmour mountains, Hamreen, al-Shay valley and other areas, while logistical support lines were destroyed in Hatra, al-Baaj, Tikrit and the Anbar desert.
In the first three weeks of June, the Iraqi intelligence agency also arrested 27 terrorists involved in perpetrating a number of crimes.
ISIS lost the capability to launch large-scale attacks a while ago and its activities today are "lacking any qualitative aspect and can be described as deplorable hit-and-run operations that are designed to be media spectacles", al-Kanani said.