Iraqi Counter-Terrorism Service (CTS) fighters, backed by Iraqi and international coalition warplanes, have carried out fresh attacks against "Islamic State of Iraq and Syria" (ISIS) remnants in northern Salaheddine province.
The operations have resulted in the death of 24 ISIS elements over the past two days by targeting the caves and tunnels where they were hiding in al-Khanouka mountains.
The attacks were the latest in a string of similar CTS operations in the Makhmour mountains and the Hatra desert in Ninawa province, and Wadi Houran in Anbar province, that have led to the killing and arrest of dozens of ISIS elements in recent weeks.
The operations in al-Khanouka mountains came in the aftermath of a June 24th operation in Qara Jogh mountains in Makhmour district, which led to the death of 12 militants, CTS spokesman Sabah al-Numan told Diyaruna.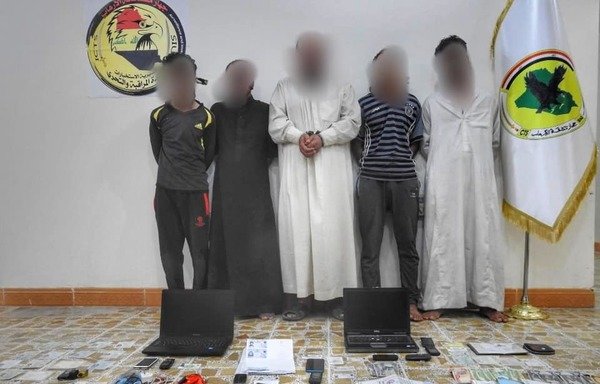 International coalition aircraft during that operation conducted 59 airstrikes on caves and hideouts the terrorists were holed up in, he said.
'Worst days'
CTS operations are carried out "based on a substantial intelligence effort", he said, noting that they have succeeded in putting the enemy on the back foot, forcing ISIS elements to take shelter and refrain from moving for fear of being targeted.
"[ISIS] remnants hiding in mountainous areas are going through their worst days as they suffer in extreme isolation," said al-Numan.
They are "unable to withstand our intensive operations against them, which have hit their most fortified and secret burrows", he added.
ISIS is trying, through its online propaganda efforts, "to hide the facts and the heavy human losses it has been sustaining at the hands of our fighters, as well as the loss of most of its logistic supply sources", he said.
"We have carried out powerful strikes against the terrorist remnants, as well as successful landings and sweeps in the desert and along the country's western borders," said al-Numan.
"These pursuits are getting more intense and are reaching any area the terrorists might hide in," he added.
Enhancing prison security
In conjunction with these efforts, the CTS has begun carrying out inspection campaigns to secure the area around prisons, most notably al-Hut prison in the southern city of al-Nasiriya.
The CTS regiment in Dhi Qar province last week carried out periodic combing duties in the vicinity of al-Hut prison and its surrounding areas, al-Numan said.
The purpose of the operation was to "boost the fortification" in areas surrounding the prison, he said, noting that all prisons in Iraq are "secure and subject to strict monitoring, and there is no threat to them".