Militias affiliated with the Islamic Revolutionary Guard Corps (IRGC) have claimed almost full control of the Syrian border town of Albu Kamal, a local activist said.
Iran-aligned militias have achieved dominance in this part of the eastern province of Deir Ezzor at the expense of Syrian regime forces and Russia-backed militias, Albu Kamal media activist Ayham al-Ali told Diyaruna.
The Syrian regime's influence has declined in this area, he said, noting that it has just a handful of security personnel from various branches left in the city, while Russia has no presence or influence left.
The remaining members of the Syrian regime forces have been occupying some residences in Albu Kamal's al-Katf district, using them as headquarters, he said.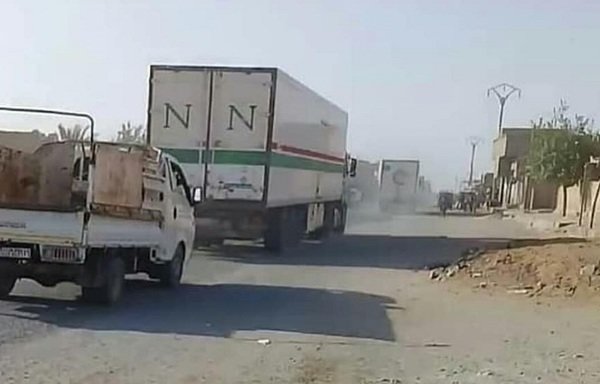 The Iran-aligned militias seized control after expelling Liwa al-Quds militiamen, who had switched their allegiance from Iran to Russia, al-Ali said.
Tension flared in the city after Syrian intelligence elements confiscated a number of houses whose owners had not yet returned to the city, he said.
Militiamen broke into the houses, he said, and commandeered them for use as military posts and living quarters for their fighters.
Border crossing reopens
Al-Ali said these changes were accompanied by the reopening of nearby al-Qaim border crossing with Iraq, which is under the full control of IRGC militias and was closed for a period of time because of the coronavirus pandemic.
Fully covered civilian trucks crossed over from Iraqi territory towards Albu Kamal and entered closed compounds, he said, adding that the trucks are likely transporting weapons and food to the IRGC militiamen.
Civilian buses also crossed over from Iraq, he added, carrying passengers who were said to be pilgrims coming to Syria from Iran and Iraq.
Iran-aligned militias are using civilian companies to transport goods and weapons and have entered into contracts with tourism and transport companies to transport these elements, al-Ali said.
This is to avoid exposing their military buses and trucks to shelling or airstrikes, he said.
With regard to the al-Qaim crossing, he said, it was opened to trucks only and civilian vehicles are still prohibited from moving to and from Syria.