The Iraqi government is following through on its commitment to prioritise the rebuilding of damaged homes in liberated cities to improve the living conditions for residents and develop the cities, officials say.
Reconstruction operations throughout the provinces that are free of terrorism are proceeding along several tracks, Ministry of Planning spokesman Abdul Zahra al-Hindawi told Diyaruna.
"Significant work is being done towards repairing the infrastructure and destroyed projects as well as homes that were partially or completely destroyed," he said June 10th.
"Positive results have been achieved with the return of thousands of displaced persons to their homes after their neighbourhoods were rehabilitated and public services became available," he said.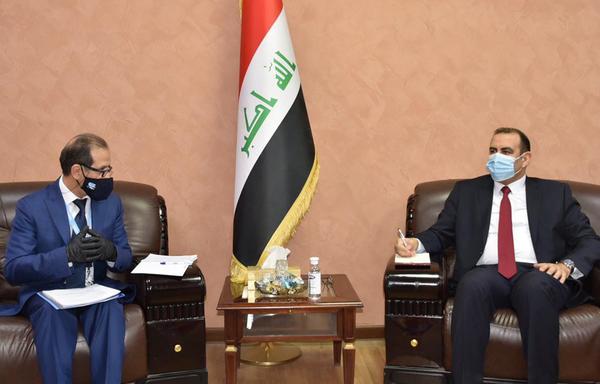 "Many residents whose homes were damaged by terrorism were given generous compensations," he added.
The ministry "has put in place public plans and strategies for reconstruction and is overseeing implementation with state and national sectors, as well as international organisations and aid agencies", he said.
Minister of Planning Khaled Battal al-Najim met with the UN Human Settlement Programme (UN-Habitat) representative in Iraq, Wael al-Ashhab, June 3rd to discuss joint work mechanisms to put a new joint reconstruction strategy into practice.
"We aspire to raise the level of co-ordination with Habitat and increase their support of house construction and repair projects," al-Hindawi said.
"We have a comprehensive vision of the damage in all sectors including housing and we are ready to implement programmes and projects that contribute towards strengthening that sector."
Thousands of homes were destroyed during the indiscriminate shelling by the "Islamic State of Iraq and Syria" (ISIS), which used a range of weapons to hinder the progress of the liberating forces.
Rebuilding Ramadi
Ramadi has suffered its fair share of destruction during the reign of terrorism and ensuing liberation battles, mayor Ibrahim al-Awsaj told Diyaruna.
"Nearly 64,000 residential units... have varying levels of destruction", he said, and most of the heavily destroyed houses are located in the centre of Ramadi in neighbourhoods such as al-Bakr and al-Malaab, which witnessed violent fighting with ISIS.
"With the liberation of the city, houses are now being repaired and this has taken two trajectories," he said.
"The first is through the [central] government via Law No. (20) of 2009, which provides compensation for those whose property has been damaged from terrorism. There is a working government committee that receives compensation applications and disperses funds for beneficiaries."
Some of those affected received compensation to rebuild their homes, but many are still awaiting financial compensation, al-Awsaj said, adding, "We hope to be able to pay them soon after economic conditions improve."
The second path is through international organisations, he said.
"More than 10,000 damaged residential units were rebuilt in Ramadi over the past two years with funding from these organisations, the most prominent of which is Habitat and the UN Development Programme."
Mosul welcoming home IDPs
In Mosul, where the most violent battles occurred, tens of thousands of houses were destroyed, most of which are in the Old City, with nearly 10,000 square kilometres of its habitable land mass turned into rubble because of the war.
"Nearly 44,000 applications of Mosul residents whose property was damaged... have been processed and raised to the central government [in Baghdad]," said Mosul mayor Zuhair al-Araji.
"We are waiting for the money to be sent to all those applicants," he told Diyaruna.
"UN and international agencies have been helping us since 2018 to rebuild and restore hundreds of homes including homes that were less than 50% damaged, and there are some [residential] units that have been restored by their owners out of their own pocket or with donations," he said.
Reconstruction of residential houses, especially in the Old City, requires larger scale efforts "as the level of destruction in the city was significant and surpasses the capabilities of the local government", al-Araji said.
"We hope to achieve progress in this regard, which is the largest impediment facing the return of displaced families to their homes."