The Iraqi Ministry of Migration and Displacement has facilitated the return of a new batch of internally displaced persons (IDPs) to their areas of residence in Ninawa province, the ministry said Monday (June 22nd).
Fifty-four families who had been living in the camps of al-Khazir and Hassan Sham have returned to their homes in Ninawa province, said Souad Ismail, assistant director of the ministry's branch in Erbil.
Located in south-eastern Ninawa, the two camps are run by the ministry in co-ordination with Kurdish authorities in Erbil province.
The families that have returned to Ninawa are affiliated with the army and police forces, she told Diyaruna.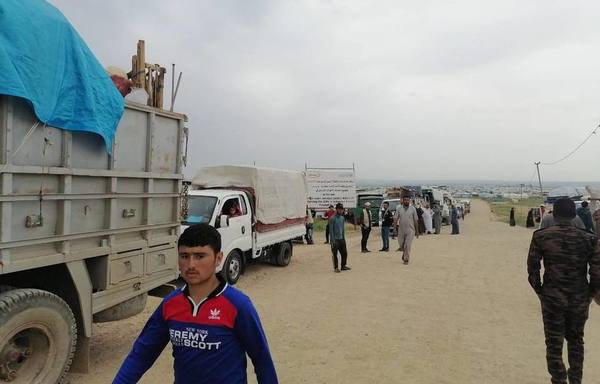 They submitted requests to return to their areas of origin "due to the difficulties they have been encountering when entering or exiting the camps as a result of the measures in place to prevent the spread of the coronavirus", she said.
More displaced families continue to return, Ismail said, noting that "any requests for return we receive from IDPs are collected and forwarded directly to the responsible government bodies".
The ministry then begins arranging for their departure and an agreement is reached with the Ministry of Transport to provide buses and trucks for the transport of these families, she said.
Voluntary return
Some families return on their own expense, said Ismail, noting that "the decision is in their hands and they are free to do what suits them".
The entire process is voluntary, she stressed, and some displaced families may prefer to remain in the camps even as the challenges that prevent them from returning to their areas are removed.
This is because they benefit from the services available to them in the camps, she said.
"We offer weekly food and health baskets and cooking and other relief items such as blankets and furniture, in addition to fuel," she said.
The ministry also provides health services to the IDPs, especially as the COVID-19 pandemic continues, she said.
The number of people wishing to return is likely to increase in the coming months, said Ismail, which will "gradually bring us closer to a final conclusion of the displacement issue".
Returning IDPs to their original areas is the Ministry of Migration's "number one task", Minister Ivan Faeq Jabro said during her visit to Anbar province on Sunday.
The ministry will continue to disburse grants and provide assistance and services to returning citizens "to encourage the rest of the IDPs to return and settle in their areas", she said.
"Twenty camps in Anbar have been closed to date," she said, and only 1,706 displaced families remain in Anbar.