Thousands of Syrians in the southern city of Daraa chanted slogans against Iran, the Islamic Revolutionary Guard Corps (IRGC) and Lebanese Hizbullah during a funeral for the victims of a Saturday (June 20th) bus bombing, an activist said.
Nine soldiers of the 8th Brigade of the Russia-backed 5th Corps were killed when their bus hit a roadside bomb in the eastern Daraa village of Kahil.
Nineteen others were wounded in the attack, some of them critically, the Syrian Observatory for Human Rights said.
The soldiers were returning from rural Latakia, where they had taken a training course in a camp operated by the 5th Corps, Daraa activist Jumaa al-Masalmeh told Diyaruna.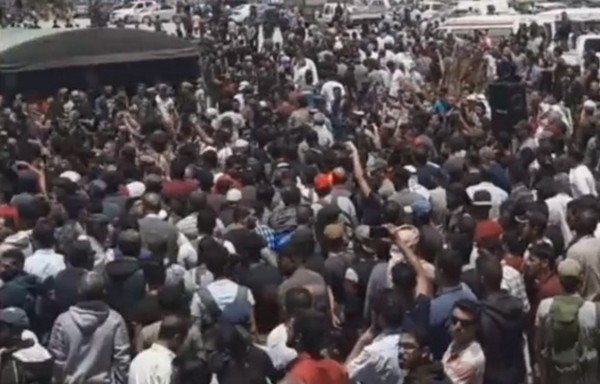 The funeral, held in the city of Busra al-Sham, turned into a mass demonstration, with thousands of civilians chanting slogans against Iran, the IRGC and Hizbullah, al-Masalmeh said.
The tribes of the region also took part in the funeral and ensuing march, he said, adding that this reflects the mass rejection of the Iranian presence.
According to al-Masalmeh, all 1,600 soldiers of the 8th Brigade are former Free Syrian Army (FSA) fighters who joined the brigade following the Russia-brokered reconciliation agreements with the Syrian regime in 2018.
They were known for their total rejection of the Iranian presence in the region, he said, noting that several clashes had broken out between them and IRGC-affiliated militiamen, particularly fighters from Hizbullah.
There was no immediate claim for the bombing, AFP reported.
But some have accused the IRGC of being behind the attack, "to retaliate against the 8th Brigade, which it sees as preventing the IRGC from spreading in Daraa province and all of southern Syria", al-Masalmeh said.
He noted that the number of casualties in the bus bombing is likely to rise in the coming days due to the severity of the injuries of those who survived.
Al-Masalmeh said there have been almost daily demonstrations in Daraa against the Iranian presence.