Mosul, home to a burgeoning number of volunteers and civil society organisations, has been dubbed "the capital of volunteerism".
The city, once the de facto capital of the "Islamic State of Iraq and Syria" (ISIS), boasts today a plethora of groups and organisations that provide charitable services to the population and are key partners for the government.
Since its liberation from ISIS in July 2017, Mosul now has more than 270 volunteer teams, including 64 associated with the Network of Civil Society Organisations in Ninawa, the network's media officer Muhannad al-Awmari said.
After the liberation of Mosul, there was abundant enthusiasm for volunteer work among younger people in an attempt to support their families and play an active role in the reconstruction of their city, he told Diyaruna.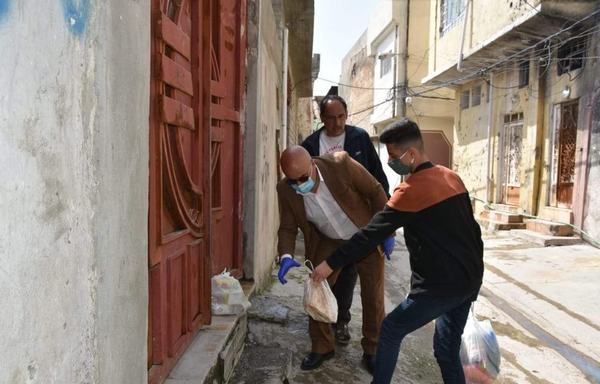 The effort of these youths was a valuable complement for government efforts, he said.
Network volunteers have participated in removing hundreds of tonnes of rubble from the streets of Mosul, hence contributing towards reopening streets, schools, businesses and government buildings, he said.
Volunteers also took part in "removing corpses from underneath the rubble of destroyed houses in collaboration with civil defence and municipality teams", he said.
"We worked on several projects, including relief, humanitarian and educational programmes in collaboration with government and international agencies, such as UNICEF," al-Awmari said.
"Our efforts continue at the same pace as we focus on supporting local residents to rebuild their shops and businesses, through donations and funds earmarked for relief efforts and public services," he added.
Helping IDPs a priority
Providing aid and support to internally displaced persons (IDPs) at displacement camps is a priority for volunteer teams, al-Awmari said.
"Our teams regularly visit IDP camps in Mosul and provide their residents with relief supplies and household items," he said. "They also organise awareness campaigns, vocational rehabilitation and a host of other activities."
Fazaa, one of the civil society organisations active in Mosul since the start of the liberation battles in late 2016, has organised no less than 18 campaigns to supply IDP camps and returnee families with thousands of food baskets, medicines and basic supplies.
It also supports the returnees with reconstruction efforts and helps secure livelihoods for dozens of them, said Fazaa general co-ordinator Mustafa al-Khatib.
At the beginning, there were only a handful of volunteers, he told Diyaruna. That number has since grown to 1,500 volunteers dispersed across local chapters throughout Mosul.
"Our volunteer work does not exclusively focus on one area," he said, noting that their teams have been cleaning and rehabilitating hospitals and health centres that were damaged by the war, and assembling mobility aids for the disabled.
Volunteering, however, has not been without its challenges, including loss of life, al-Khatib said.
Fazaa lost three members and 18 others were wounded by direct fire from ISIS as they were rescuing residents during battles to liberate eastern Mosul.
Supporting women
Other civil society organisations have focused on supporting women who lost their breadwinner in the war.
Layla al-Barazanchi, director of Jud, a Mosul-based humanitarian organisation for development and reconstruction, said they have taken it upon themselves to embrace women who have been most affected by the war.
Jud volunteers have provided training for widows, women whose husbands are missing and others who have to provide for large families.
"We enrolled them in vocational workshops to learn sewing and hairdressing," she said. "We have also offered rehabilitation programmes targeting not only women but hundreds of young people who have benefited from our services and went on to open repair shops for cell phones, computers and electrical appliances."
Al-Barazanchi said her organisation currently helps provides a source of income for nearly 150 women.
Border closures due to the coronavirus (COVID-19) pandemic and the suspension of imports have benefited these women as demand has risen for their products in the local market, she noted.
Al-Barazanchi called on the government to encourage and protect national production as a way to absorb the unemployed and support the economy.