The US said Thursday (June 11th) it would reduce troops in Iraq in the coming months as friction between the two countries eased under a new US-friendly premier in Baghdad.
The US also promised support to prop up the struggling Iraqi economy as the two nations held their first strategic dialogue in more than a decade.
Tensions skyrocketed following a US strike on Baghdad in January that killed Iranian general Qassem Soleimani and Iraqi commander Abu Mahdi al-Muhandis, with lawmakers in Baghdad demanding the expulsion of the roughly 5,200 US troops in the country.
In a joint statement, the US said that the reason for its military's return to Iraq in 2014 -- defeating the "Islamic State of Iraq and Syria" (ISIS) -- had made major headway.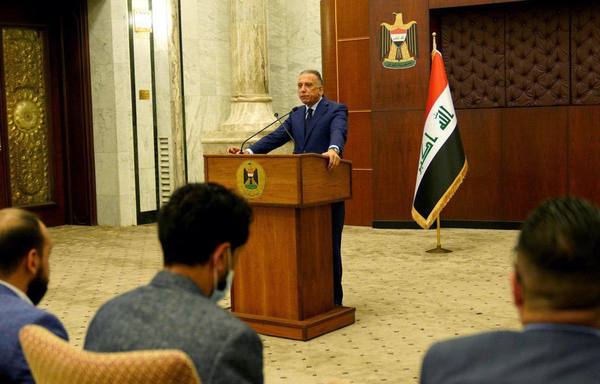 "The two countries recognised that in light of significant progress towards eliminating the ISIS threat, over the coming months the US would continue reducing forces from Iraq," the joint statement said.
"The US reiterated that it does not seek nor request permanent bases or a permanent military presence in Iraq."
The coalition has already consolidated to just three bases in recent months, down from a dozen.
Due to coronavirus travel restrictions, top-level talks expected to take place in Baghdad were demoted to a brief online kick-off session.
A "very positive" atmosphere prevailed at the meeting, a parliamentary source who asked to remain anonymous told Diyaruna.
The two delegations discussed "building long-term relations that are in the interest of both countries", he said.
They stressed that the principles agreed upon in the 2008 Strategic Framework Agreement between Baghdad and Washington form "the basis of the dialogue", he said.
"More sessions will be held in the coming period in order to reach a strong strategic alliance," he added.
A follow-on meeting by "a strategic dialogue higher co-ordination committee" would be held in Washington DC, "likely in July", the joint statement said.
Protecting US bases in Iraq
Iraq in the joint statement promised to protect US bases that have seen a barrage of rocket fire blamed on paramilitary groups tied to Iran.
Late Wednesday, just hours before the talks were to kick off, another Katyusha rocket hit the Green Zone without causing any casualties.
"There remains a significant problem of armed groups, Iranian-backed militia in the country, that operate outside the control of the government," said David Schenker, the top US diplomat for the Middle East.
"Our initial engagements with the [new PM Mustafa] Kadhemi government suggest that they are committed to re-establishing sovereignty, exercising control of these rogue militias, and having a unified security service in the country," he said.
These militias remain a danger "not only to us but to the government of Iraq and stability there", he added.
The US also said it would look to encourage investment and promote economic reform in Iraq, which was rocked last year by major protests against unemployment and corruption.
"We will support the new government through the international financial institutions to help it meet the challenge of COVID-19 and declining oil revenues," Schenker said.
Tensions have calmed substantially since Kadhemi -- an ex-intelligence chief with close ties to the US and its allies in the region -- took the reins as Iraq's premier in May.
At a press conference Thursday, the prime minister said any dialogue with the US "will first and foremost take into account Iraq's sovereignty and interests, the input of the (Najaf religious) authority, and that of parliament".
"We will not squander Iraq's sovereignty," Kadhemi said.
"We do not want Iraq to turn into an arena for conflict; rather, we want it to be a region of peace."
US support
The dialogue will facilitate "co-ordination in a manner that will preserve Iraq's security and sovereignty and its need for a bilateral partnership that supports its security requirements", military expert Jalil Khalaf told Diyaruna.
Iran-aligned Iraqi militias and political parties "must abandon their positions supporting the Iranian agenda and seek [Iraq's] interests", he said.
In addition to security and counter-terrorism, Thursday's discussions also covered political issues; economics and energy; and cultural issues.
The US said it is committed to helping Iraq "organise free, fair and transparent elections, support the rule of law, human rights and minority rights, return internally displaced persons [IDPs] and facilitate their re-integration".
It will also work to develop the capabilities of Iraqi universities and recover Iraqi antiquities.
Iraq "needs US expertise and influence in the international arena", the parliamentary source said.
"It is essential that negotiations ultimately lead us to a partnership that meets our aspirations for stability and prosperity without any harmful effects on our security and interests," he said.