Syrian Democratic Forces (SDF) arrested dozens of "Islamic State of Iraq and Syria" (ISIS) elements during the first phase of a counter-terrorism operation in north-eastern Syria, an SDF official said Thursday (June 11th).
The SDF on Wednesday announced the successful conclusion of the first phase of Operation Terrorism Deterrence, a security sweep backed by the international coalition, that was conducted in parts of Deir Ezzor and al-Hasakeh.
During the operation, the SDF tracked down ISIS elements and sleeper cells in the two north-eastern provinces, without suffering any casualties of their own, SDF officer Farhad Khoja told Diyaruna.
Thousands of SDF and affiliated security personnel took part in the sweep, he said, combing dozens of villages and towns in the two provinces.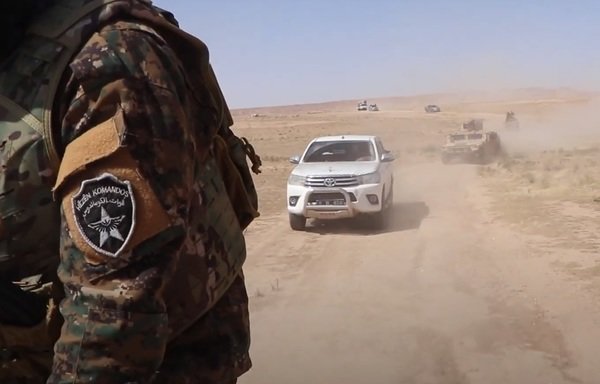 Commando forces cleared 56 sites associated with the extremist group, and arrested 110 Syrian and Iraqi ISIS elements of various ranks, Khoja said.
All these detainees have been transferred to detention and investigation centres, he said, including the members of an ISIS cell who were apprehended near the Syrian border with Iraq.
Sweep targeted 150 villages and towns
Khoja said the sweep carried out by SDF ground forces targeted 150 villages and farms, while high-risk raids were conducted by special forces and commandos.
All actions were carried out in co-operation with, and with the full support of, international coalition forces, which provided air cover and logistical and intelligence support, he said.
The area targeted by Operation Terrorism Deterrence is a desert area, where there are dozens of hidden dens and tunnels dug by ISIS elements, he said.
This forced the combing operations to proceed at a slow and arduous pace, he added, especially in the desert area along Khabour river and the Iraqi border.
Security forces discovered a large network of tunnels during the operation, some of which were wide enough for cars to drive through, Khoja said.
They also seized weapons, ammunition and materials used in the manufacture of improvised explosive devices (IEDs), he said.
The SDF have been working in co-operation and co-ordination with Iraqi forces stationed near the border, he added, to hunt down any ISIS elements who sought to flee to Iraq after getting wind of the campaign.