Four mosques in different parts of Baghdad that were closed for several years for security reasons have been reopened, the Iraqi Sunni Endowment Office said Monday (June 8th).
Some of the mosques had been closed for more than a decade as a result of the unstable security situation, Sunni Endowment Office head Saad Kambash told Diyaruna.
The reopened mosques include al-Hamza mosque in the area of al-Ghazaliya, and al-Sada al-Naeem and al-Mustafa mosques in al-Shaab neighbourhood.
The al-Sour al-Kabeer mosque in the New Baghdad area was reopened Sunday and calls to prayer were made from it for the first time in eight years.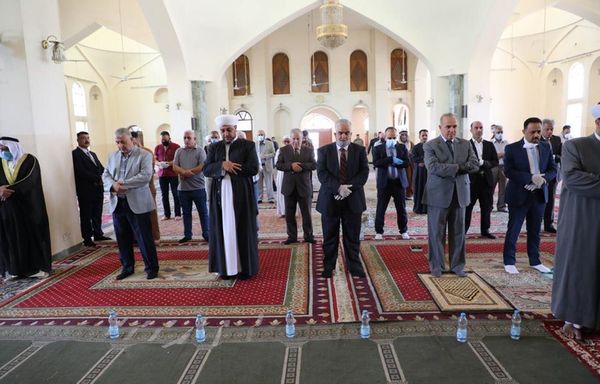 The sectarian violence that swept the country between 2005 and 2008 prompted dozens of mosques to shut down for fear of being attacked.
There are still 136 closed mosques in Baghdad and other central and southern provinces, such as Diyala, Basra and Maysan, Kambash said.
"But we will continue to reopen these mosques one by one after Sunni Endowment Office engineering departments perform the necessary maintenance and repairs," he said.
"Next week, we will re-open the al-Zahraa mosque in Diyala province," he added.
'The death of sectarianism'
There are no obstacles or difficulties preventing the reopening of all places of worship, said Kambash, as security conditions today are stable "and Iraq has left behind that dark period in its history for good".
"Today, by reopening the mosques, we announce the final death of the hateful sectarianism and reaffirm peace, societal reconciliation and unity," he said.
"Our country is well and has overcome all adversities, with nothing threatening our social fabric or separating us any longer," he said.
The mosques will only sound the call to prayer, but actual prayers will not be held due to measures in place to stem the spread of novel coronavirus (COVID-19).
The Endowment Office is also working to rehabilitate mosques that have been destroyed by terror groups in the provinces of Ninawa, Anbar and Salaheddine, with a focus on historical ones, Kambash noted.
"This is a priority for us, despite the financial crisis in Iraq, which has affected our plans in this regard," he said.
Fighting terrorism and extremist ideology occupies an essential aspect of the Endowment Office's work, he said.
The office has been holding lectures and broadcasting messages in the media to raise awareness on the need to adopt moderate discourse and reject violence and terrorism, he said.