While popular protests in the southern province of Dhi Qar have paused amid a nationwide curfew to stem the spread of coronavirus (COVID-19), local co-ordination committees have stepped in to support families in need.
Several demonstration co-ordination committees and civil organisations in southern Iraq have turned their attention to helping those most affected by the health and financial crises ravaging the country.
Activists have been collecting donations that are being used to purchase food baskets for poor families in the province, Dhi Qar demonstration co-ordination committee member Mohammed Hilali told Diyaruna.
During Ramadan, he said, activists organised iftar meals and group suhoors for people fasting in al-Nasiriyah's al-Habubi Square, the hub of the protests.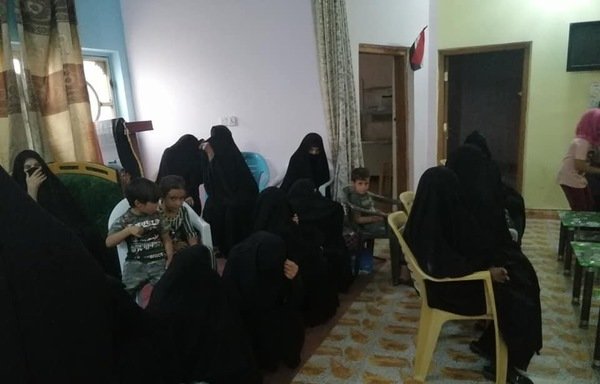 Other co-ordination committees in northern Dhi Qar's al-Shatra district put together 215 food baskets for poor families in the city, including basic food items such as sugar, cooking oil and rice.
These donations embody "the spirit of solidarity among residents of the same city", he said, noting that many people who made donations are facing difficulties and deprivations themselves.
Trade unions and charities also have organised relief campaigns, said Imad Shathar, director of the Workers Union Committees Administration in Dhi Qar.
These entities were driven to action by the magnitude of the devastation caused by the financial crisis and decline in oil prices, which has been compounded by the coronavirus pandemic, he told Diyaruna.
Helping those in greatest need
To help those in greatest need, the Workers Union Committees Administration donated 400 food parcels as well as kaswat al-Eid (Eid clothes) to poor families during the holy month of Ramadan, he said.
Beneficiaries included orphans, the families of fallen soldiers, the destitute and even junior workers in municipal departments, who were selected based on lists that had been prepared to organise the distribution process, Shathar said.
Volunteers also have been offering training to unemployed youth, providing free haircuts and making medicine available at reduced prices, he said.
The Central Bank of Iraq meanwhile rolled out a new mechanism to distribute grants allocated by the Ministry of Labour and Social Affairs to families affected by the coronavirus crisis, Central Bank spokesman Aysar Jabbar told Diyaruna.
Emergency grants will be paid to government-approved beneficiaries via mobile phones, Jabbar said.
Mobile phone companies will open mobile wallet accounts for grant recipients, who will be able to withdraw funds from ATMs throughout the country, he said.
Iraq's Supreme Committee for Health and Safety on April 7th announced it had allocated 600 billion Iraqi dinars ($500 million) to support nearly 10 million Iraqis during the coronavirus crisis.