Iraqi authorities recorded the first novel coronavirus (COVID-19) infection among internally displaced persons (IDPs) on Monday (May 25th), prompting further action to prevent transmission among displaced families living in camps.
The patient is a young IDP from the Hassan Sham camp, north-west of the city of Erbil, said Souad Ismail, director of the Ministry of Migration and Displacement's branch in Erbil.
The camp hosts thousands of displaced residents from Ninawa province, she told Diyaruna.
The infection was discovered by one of the medical teams deployed at Kurdish security checkpoints as the youth was attempting to travel to the city of Mosul to finalise some documents, she said.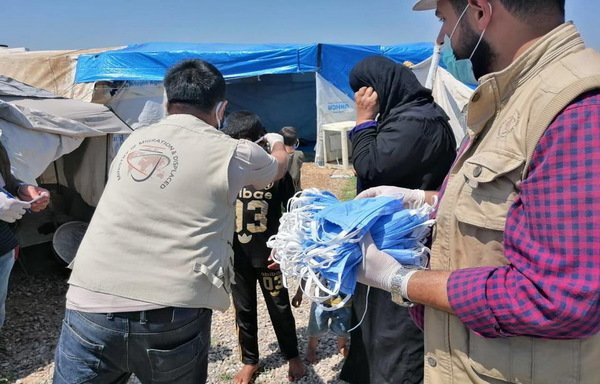 The young man said he had first visited Baghdad, then before heading to Mosul had stayed for a short period in the camp, where he lives in tents allocated for unmarried IDPs who lost their families during the war on terrorism.
The Erbil Health Department was immediately notified and began isolating those tents from the rest of the camp, placing them under quarantine, said Ismail.
Anti-coronavirus measures
In the meantime, tests were administered by the health authorities to about 100 IDPs who had interacted with the infected youth or had been in close proximity to him, she said, noting that the results came back negative.
Still, "the IDPs will be quarantined for two weeks to ensure that they have not been infected with the virus", she said.
Their tents have been supplied with power 24/7 and they have been provided with food, relief materials and health supplies.
The infection spurred authorities to ramp up efforts to prevent the virus from spreading among IDPs living in camps, said Ismail, adding that they kicked off a fumigation and sanitisation campaign of the Hassan Sham camp and all other camps.
Awareness campaigns will be launched at the camps to educate IDPs on social distancing and the importance of following safety and personal hygiene guidelines, she said.
Additionally, movement in and out of the camps will be restricted and medical checks will be administered more frequently.
Though it is a difficult task, the Ministry of Migration is doing everything possible to protect the camps against the risk of transmission of the virus, which may pose a serious threat to the lives of the IDPs, said Ismail.