Tehran's continued support of terrorist activities throughout the region comes at the expense of the economic interests of the Iranian people and the people of countries where Iran's proxies are sowing chaos and violence, analysts say.
"Iran's leaders think only of their terrorist project, which is to weaken the countries of the region and expand their influence in them," Bahraini political analyst Abdullah al-Junaid told Diyaruna.
"This is a top priority" for Tehran, so the regime is "harnessing all [of Iran's] economic and social resources to serve that project, which is also supported by their proxies", he said.
These proxies, such as Lebanon's Hizbullah, Yemen's Houthis and Iran-backed militias in Iraq, "are in turn draining the resources of their own countries and impoverishing their own people for the benefit of Iran's rulers", al-Junaid said.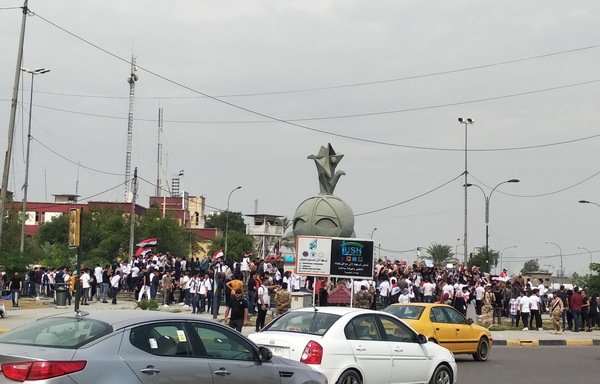 As a result, Lebanon is saddled with debts amounting to $92 billion, equivalent to about 170% of its gross domestic product (GDP), according to credit rating agency Standard and Poor's, which is one of the highest debt-to-GDP ratios in the world.
The Lebanese pound also has lost more than half its value, which resulted in a drop in the real value of salaries by more than half for those who receive their salaries in pounds, thus shrinking their purchasing power amid a rise in prices.
Al-Junaid said a large portion of the wealth of countries in which Iran has allies has evaporated as a result of region-wide money laundering operations and financial corruption to help the Iranian regime ensure the sustainability of its project.
For example, revenue from the sale of smuggled Iraqi oil -- estimated at $14 billion between 2006 and 2010 alone -- went into the pockets of the Iranian regime through its Iraqi proxies, al-Junaid said.
Protests in Iraq, Syria, Lebanon
Iran-backed militias in Iraq are causing the economic situation to deteriorate further amid a slump in the global prices of oil, which is the state's main source of hard currency, observers say.
"Iran views Iraq as its economic lung," said military and strategy expert Hatem al-Falahi. "It still sells Iraq electricity and the gas used to operate power plants at prices higher than their actual price on the global market."
"Through its proxies, Iran is exerting pressure to block any Iraqi rapprochement with other countries in the region, such as Saudi Arabia, which had at an earlier time offered to help Baghdad overcome its electricity shortage," he said.
Iran's allies in Iraq seek to "disrupt national production and harm its economic sectors, particularly agriculture, in order to open markets for Iranian goods" to alleviate the impact of the sanctions on the regime, he told Diyaruna.
The corruption the militias engage in and sponsor has exacerbated the problems of unemployment, poverty and the provision of public services, al-Falahi said.
This has angered Iraqis who have been staging demonstrations for seven months condemning the actions of these agents and Iran's interference in their affairs.
Protests in Iraq, Lebanon and Syria are a clear expression of public dissatisfaction with the activities of the Iranian regime and its allies, said Syrian journalist Ziyad al-Munjid.
Iran's allies will continue to deplete their countries' national resources to finance their activities and support Tehran's agendas, he told Diyaruna.
"The Lebanese people are experiencing severe financial and economic hardship as a result of Hizbullah's involvement in activities that destroy the local economy, including stripping the country of hard currency by buying it in Lebanese and Syrian pounds," he said.
"Iraqi militias play similar roles and are a stumbling block to Iraq standing on its feet and using its wealth to build itself, and the same is true with Iran's groups in Syria and Yemen," al-Munjid said.
Iranian economy in downward spiral
As for Iran, its economy is deteriorating by the day, which is having a major impact on all aspects of life and pushing Iranians to place more blame on their leaders for their poor living conditions.
Amid numerous internal crises, the Iranian currency continues to depreciate, and has reached near all-time lows this month.
On May 20th, the exchange rate against the dollar came close to 180,000 rials, registering an 11% decline in the past two months, Radio Farda reported.
Moreover, between 2.8 million and 6.4 million people are "expected to be added to the unemployed population periodically" due to the spread of coronavirus, quarantine and the government's policies, the Islamic Parliament Research Centre reported recently.
At least 75% of Iran's 80 million people are living in poverty, according to Mahmoud Jamsaz, an economist close to the Iranian regime, Al-Arabiya reported April 30th.
"The Iranian regime does not seem to be concerned about the scale of the catastrophe it has brought upon its people, and continues with its partners to squander the people's wealth to keep its terrorist machine running," al-Munjid said.