The UN team investigating crimes committed by the "Islamic State of Iraq and Syria" (ISIS) is progressing in its efforts to gather evidence aimed at prosecuting and convicting members of the group.
In its latest report to the UN Security Council on May 11th, the team stated that it has succeeded in gathering new evidence against ISIS.
The evidence includes more than two million calls that were obtained from Iraqi mobile phone service providers as well as data recovery and analysis with the help of Iraqi judicial and security authorities.
The data provides a massive trove of internal ISIS documents, videos and pictures that, according to the UN team, could represent a "step change" in the prosecution of the extremist group.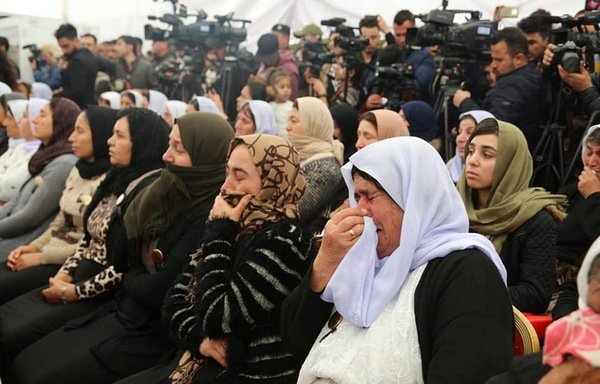 The evidence gathered "is the result of joint efforts" among national institutions and the UN mission charged in accordance with the 2017 UN Security Council Resolution 2379 with holding ISIS accountable for the crimes it committed in Iraq, said Fadel al-Gharawi, a member of the High Commission for Human Rights.
The violations committed by ISIS represent "an exceptional criminal file" as the terrorist group caused the deaths of thousands of innocent people in mass killings, he said.
These included the massacres at Camp Speicher (Tikrit Air Academy) and Badoush prison, the extermination of the Yazidi population in Sinjar, and others killed in Mosul and Anbar province, he told Diyaruna.
In addition to these deaths, ISIS "displaced millions of residents from their homes, destroyed their cities, and infringed upon the rights of women and children, public freedoms and the rights of minorities", he said.
"The evidence presented by the UN team supports Iraqi demands to indict ISIS fighters and to officially acknowledge their crimes, which fall under genocide and crimes against humanity," al-Gharrawi said.
"These indictments open the door for Iraq to demand UN resolutions that compel the international community to take part in efforts to compensate victims of terrorism and help them rebuild their cities," he added.
Investigations continue
Over the next six months, the UN team will continue working with the Iraqi government to ensure judicial procedures are carried out against ISIS members based on the available evidence.
"The documents and data gathered by the UN team... include compelling evidence that condemns these terrorist murderers," said Iraqi legal expert Ali al-Tamimi.
"This paves the way for them to be investigated, pursued, arrested and held accountable as war criminals with the possibility of transferring their cases to an international criminal court and prosecuting them under international law," he told Diyaruna.
Al-Tamimi called for the acceleration of "fair retribution and law enforcement against all terrorists responsible for killing people in cold blood and burying them in dozens of mass graves, as well as being behind kidnappings, human trafficking and committing a host of atrocities".
The case should be raised at the international level, he said, adding that Iraq needs support "to provide compensation for the economic and infrastructural damage caused by ISIS and retrieving money and public possessions smuggled by terrorists".
ISIS 'will not escape punishment'
During a UN Security Council session in July 2019, the lead investigator of the UN team Karim Khan announced the launch of a survey to reveal ISIS crimes with assistance from a large number of analysts, criminal investigators and forensic experts from several countries, including Iraq.
Within two weeks, the investigation team managed to sift through more than 600,000 videos of ISIS crimes and more than 15,000 pages of documents related to the terrorist group.
The steps to prosecute ISIS members are "proceeding at a good pace", said Ghazwan al-Daoudi, a former official from the human rights commission in the Ninawa provincial council.
"This is reassuring for the families of the victims of terrorism to know that the perpetrators, no matter how long they live, will not escape punishment and justice," he told Diyaruna.
"We hope this step to gather evidence will lead to large scale operations to hunt down terrorist elements who managed to escape or return to their countries of origin so they can face justice," he said.
"We hope that the international community will step up its contribution towards bringing IDPs back to their homes, reconstruction efforts as well as helping rehabilitate the families and children of ISIS fighters to prevent them from turning into future ticking time bombs," al-Daoudi said.