Internally displaced persons (IDPs) from areas the Syrian regime seized in its recent military operation in Idlib have been holding large demonstrations at various locations in the province, a local activist told Diyaruna.
The protests are being organised by the IDPs themselves, and are not affiliated with any political or armed groups, said Maarat al-Numan native and Idlib activist Hani al-Numan.
The demonstrators aim to call regional and international attention to their plight in order to put an end to the tragedy that has befallen them, he said.
Al-Numan recently fled with his own family to a town near the Turkish border.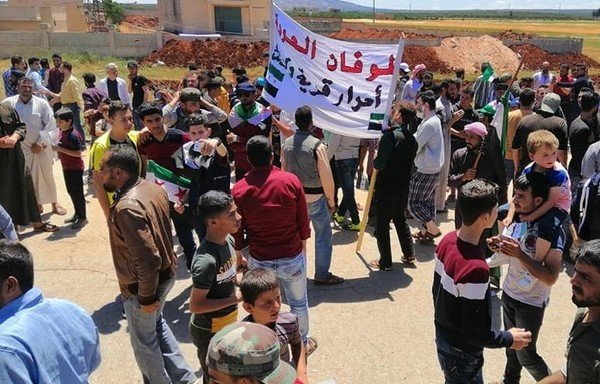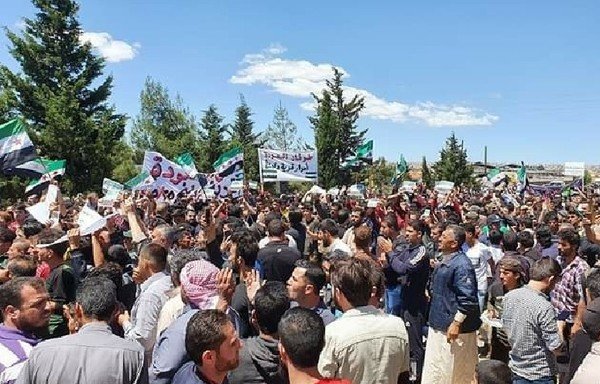 He told Diyaruna that IDPs from areas the regime seized in its latest military operation in Idlib have begun to organise wide-scale demonstrations, demanding they be allowed to return to their home villages and towns.
They are calling for the departure of regime forces and allied militias from these areas, he said.
The first demonstration, dubbed "The Flood of Return", drew thousands of IDPs from various towns to three locations where protests were being held, he said.
Protestors gathered in the city of Idlib, in the area between the cities of Sarmin and Idlib, and near the city of Saraqeb, raising the flag of the revolution and signs demanding their return and the withdrawal of the regime.
Some signs blamed Russia for the displacement and for the destruction of public and private property, while others called for the release of inmates from the Syrian regime's prisons, and for the right to live in dignity.
Crowded camps, miserable conditions
More than 1.5 million Syrians were displaced during the recent military operation, and are now living in very poor conditions near the border with Turkey, al-Numan said.
This area had been saturated with previously displaced people when the newcomers arrived, he said, and there was no room for them in the camps.
Add to these conditions the lack of relief and humanitarian work, he said, especially in the wake of the global novel coronavirus (COVID-19) pandemic.
Al-Numan stressed that the new demonstrations were initiated by the displaced population themselves, noting that IDPs in various villages and towns have recently formed alliances.
They have been co-ordinating among themselves to ensure the success of the demonstrations, and to ultimately resolve the displacement issue that has afflicted the people of Idlib province, he said.