The Iraqi army on Sunday (May 17th) launched a military campaign to clear the western desert of "Islamic State of Iraq and Syria" (ISIS) remnants, an official said.
"Operation Lions of al-Jazeera", the largest search operation of its kind, covers a vast area of ​​150 square kilometres, Maj. Gen. Tahseen al-Khafaji, a spokesman for the Joint Operations Command, told Diyaruna.
The area stretches from "the border strip with Syria, towards the al-Jazeera desert and the road connecting the towns of Haditha and Baiji, to Lake al-Tharthar's western valley", he said.
The target desert includes areas located between the provinces of Anbar, Salaheddine and Ninawa, including Shaabani, Sahloul Rawa, Wadi al-Ajij, Tarifawi, Sunaisala and the Geneva Military Airport area in the Hatra desert.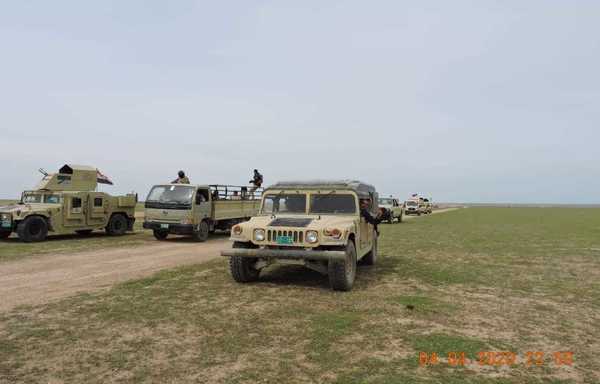 The areas covered by the campaign lie at the edges of security sectors overseen by the operations command of each of the three provinces, said al-Khafaji, noting that ISIS elements hide in these areas, taking advantage of their vastness and rugged terrain.
Supply lines severed
The new campaign is distinctive in the number of participating forces, which include four operations commands -- Anbar, al-Jazeera, Western Ninawa and Salaheddine, he said, as well as the tribal mobilisation forces and Iraqi air force.
These forces launched the campaign from 11 directions, focusing on "cutting the ISIS remnants' secret supply lines in the western al-Jazeera desert, which serve as conduits for logistical support and transport to other provinces, especially Diyala and Salaheddine", he said.
The campaign also aims to "maintain pressure on the terrorists, trap them in their hideouts and destroy their morale, which they have tried to lift in recent weeks by launching cowardly attacks against [Iraqi] soldiers and civilians", he said.
The operation has led to the destruction of four rest-houses and tunnels in the Salaheddine operations sector, as well as in other areas, and the seizure of improvised explosive devices (IEDs) and weapons in northern Rawa.
Anbar Operations forces have "tracked down and killed several terrorists in different areas of the Anbar desert, while other [ISIS] remnants managed to escape", he said.
"The campaign will continue until all targeted territory is clear of terrorists and is fully secured," al-Khafaji said.
Meanwhile, a security operation was also launched to track down ISIS remnants in the orchards of Abu Saida and al-Mukhaisa in Diyala province, he said.
The operation, which was launched by the 5th Infantry Division's command, local police and army aircraft, "has led to the destruction of a terrorist hideout in the groves of al-Houra and the blowing up of two IEDs", he noted.