Efforts to help displaced Iraqi families return to their homes have resumed after being temporarily suspended due to precautionary measures to fight the spread of the novel coronavirus (COVID-19) pandemic, officials said.
The Ministry of Displacement and Migration has renewed efforts to help displaced persons who voluntarily seek to return to their homes in liberated areas, said Ali Jahankir, director general of the ministry's branch affairs department.
These efforts had been suspended due to the lockdown imposed since March throughout the country to prevent the spread of the coronavirus, he told Diyaruna.
After easing some of these restrictions ahead of Ramadan, a new batch of 106 families left al-Salamiya displacement camp in Ninawa province in April.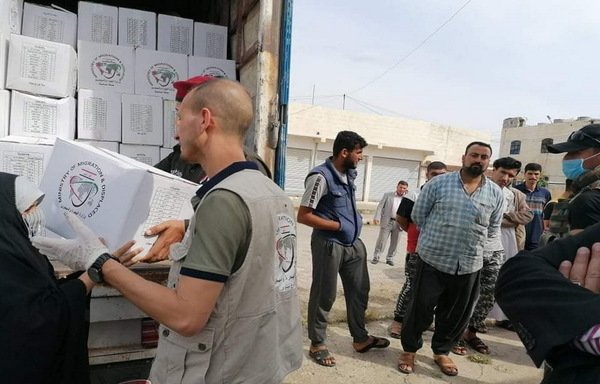 They returned to their homes in western Mosul and in the towns of al-Qayrawan, Baaj, Zamar, Rabia and Sinjar in western Ninawa.
In Anbar, 97 displaced families have returned to their homes from al-Habbaniyah camp in the eastern part of the province, said Jahankir.
"Our plan for this year aims at bringing back the largest number of displaced families, and we will continue working until we achieve this goal in spite of the emergency health crisis at hand," he said.
The ministry has managed since last year to close down 94 camps throughout the country, he said, noting that most of the remaining 78 camps are "small-scale shelters".
The remaining camps accommodate more than 62,000 families who are mostly from Ninawa province, including close to 40,000 internally displaced persons (IDPs) from Sinjar living in camps in Dohuk province in the Kurdish region.
No infections in the camps
The return of IDPs eases the burden placed on the state and is a key factor in efforts to support stability and maintain security in the liberated provinces, said Khalaf al-Hadidi, a former member of the Ninawa provincial council.
Associate director of migration in Ninawa province, Azim Hazim Dawood, said he hopes the voluntary return of IDPs to Ninawa will increase after the lockdown measures have been eased.
The migration directorate in Ninawa has been providing aid and financial support to returning individuals so they can easily reintegrate in their communities, he said.
Thousands of food baskets have been handed out to returnees in Mosul and the towns of al-Kuwair and Tal Keyf, as well as the Ninawa Plains, he said.
The number of IDP camps in Ninawa has gone down from 14 camps when the "Islamic State of Iraq and Syria" (ISIS) invaded Iraq to only five, Dawood said.
These include al-Salamiya, Hammam al-Alil, Jabal Sinjar, al-Jadaa and Hassan Shami camps, which currently shelter around 13,000 displaced families.
No coronavirus infections amongst the displaced population in the camps has been recorded to date, he said.
"We are following strict health procedures in the camps with continuous sanitisation operations being conducted in collaboration with the Red Crescent, the Civil Defence and other civil organisations," he added.