The Syrian regime's economic collapse is a result of not only close to a decade of war, experts say, but also decades of rampant corruption that mean just a handful of people control the bulk of the country's wealth.
Deeply entrenched corruption and cronyism was a key trigger of the Syrian uprising that broke out in 2011, said Syrian journalist Mohammed al-Abdullah.
The Syrian people initiated it because they wanted to effect change, he told Diyaruna, including a more equitable distribution of wealth.
But President Bashar al-Assad still has dominant control over the wealth of the Syrian state and people, which has created enormous social disparity, he said.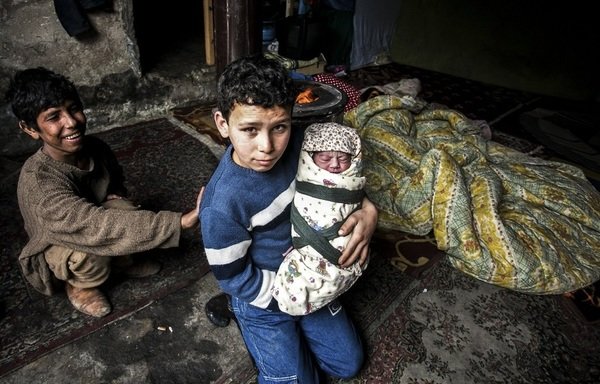 A small clique comprising the ruling family, people close to them and some senior military officers have immense wealth, while up to 80% of the Syrian population subsists at or below the poverty line, he said.
But recent friction within the ruling clique has exposed rifts at the heart of the regime and highlights the mounting pressure and challenges it is facing.
Irrefutable evidence of internal dissent came to light recently when al-Assad's cousin Rami Makhlouf -- Syria's top tycoon -- publicly aired his grievances with the regime in a pair of Facebook video posts.
This has revealed a power struggle within the ruling family as it tries to cement its power after nine years of war, analysts told AFP.
Family friction
In a video posted May 1st, Makhlouf urged al-Assad to order a "rescheduling" of up to $185 million in tax payments from Syriatel, Syria's largest mobile operator. Makhlouf, who heads Syriatel, presides over an empire of businesses.
In a second video on May 3rd, he accused security services of detaining employees to intimidate him into stepping away from his businesses.
"Would anyone ever have thought that the security agencies would come for Rami Makhlouf's companies, while he has been their biggest... sponsor throughout the war?" he asked.
In addition to reflecting the fragmentation that has afflicted the ruling group, al-Abdullah told Diyaruna, Makhlouf's actions reveal that what appeared to be a strong alliance among them was nothing but a temporary bond.
This bond was based on financial interests, and began to disintegrate as soon as it was shaken, he said.
The dust-up between Makhlouf and al-Assad will have major repercussions inside Syria in the near future, al-Abdullah said, noting that al-Assad will undoubtedly lose a great deal of support.
Makhlouf's videos are unprecedented in the history of the Syrian regime, he added, and are a sure indication of the rift that has developed within it.
Rumours about internal differences had circulated in the past, he said, but now the matter is out in the open and could prove incendiary for al-Assad.
Trouble brewing
Makhlouf has been considered to be a pillar of al-Assad's regime ever since the Syrian president took over from his father in 2000, AFP reported.
But trouble has been brewing since last summer, when the authorities seized control of his charity, Al-Bustan, and dissolved militias affiliated to him.
In October, al-Assad announced he had "called on everyone in the private sector who has squandered state funds to return the money" in a bid to shore up state finances.
And when the regime later froze the assets of several businessmen over tax evasion and illicit enrichment, Makhlouf, his wife and companies were included.
The notion that the Syrian regime is conducting a "campaign against corruption" is ludicrous, Syrian economist Mahmoud Mustafa told Diyaruna, no matter how hard the regime tries to promote this view of its recent actions.
Everyone knows the regime is expropriating funds from Syriatel and other large companies as its collapsed financial system falls deeper into arrears, he said.
The businessmen whose money is being seized are mostly regime loyalists who have been part of the corruption network for decades, he said, noting that it was not possible for commercial or financial deals to take place except through them.
Russia's role
There is no confirmed information about the number or identity of individuals affected by the asset and property seizures, but there are rumoured to be at least 150 of them, Mustafa said.
All of them are close to the Syrian regime and were considered protected persons, he said, noting that the network is complex and involves businessmen, government officials and military officers of all ranks.
The most prominent figures whose money and property were seized include Makhlouf, Hazwan al-Wazz, Samer al-Dibs, Ayman al-Jaber, Tareef al-Akhras and Hussam Qaterji, he said.
Russia's role in the Syrian conflict was a major factor in creating the situation in which Syria finds itself today, said political researcher Abdul Nabi Bakkar.
Russia has supported the Syrian regime since the outset of the current conflict, and is the reason it remains in power, he told Diyaruna.
Bakkar said Russia does not care about the economic woes the Syrian regime or the Syrian people are facing, pointing out that all it cares about is the survival of the al-Assad regime.
This is because the Syrian regime ensures Russia has a legal military presence at a number of Syrian land, naval and air bases, through which Russian forces are able to implement their strategic plans in the Middle East, he said.